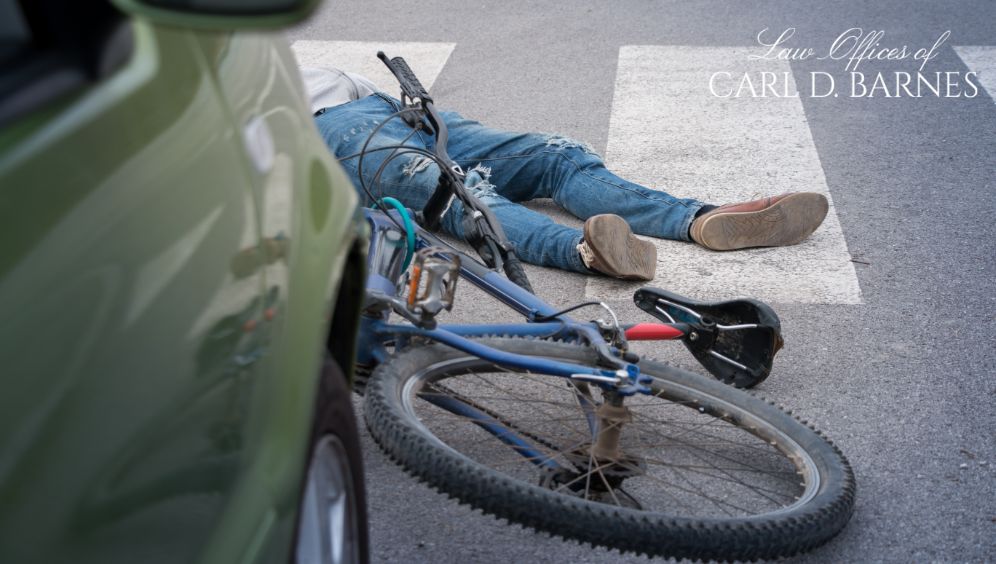 Glendale Bicycle Accident Attorney
Bicycle accidents are devastating for bicyclists, and in many cases, they can cause life-changing injuries. When bicycles and vehicles collide, riders can be thrown and suffer traumatic brain injuries, whiplash, road rash, other injuries, and even death. Though both bicyclists and drivers can be at fault for an accident, it's very rare that a driver suffers serious injuries.
When you or a loved one is hurt in a bicycle accident in Glendale, CA, you have injuries to recover from, medical bills to pay, and you may not be earning income. This is an incredibly difficult situation to be in. A personal injury claim could help. Though it may seem like excess stress, it may be able to cover the financial damages you're facing, including lost income, property damage, medical costs, future costs, and psychological damages. In order to successfully and quickly negotiate a fair settlement, you need an experienced Glendale bicycle accident lawyer.
Legal Support for Victims of Bicycle Accidents
A bicycle accident may result in severe injuries, and an insurance claim may not be able to cover the damages that you need to be compensated. Filing a personal injury claim is easier with an attorney who has years of experience and understanding to guide your claim. The Law Offices of Carl D. Barnes have won over $1 billion in verdicts and settlements for members of our communities. We understand how difficult of a time you're going through, and we want to use our knowledge and experience to get you the compensation you deserve.
An accident between a bicycle and a car may be caused by the driver, the bicyclist, another party on the road, a pedestrian, or even a car or bike manufacturer. We use our resources to find out the party at fault for the accident and hold them accountable for the damages you suffered. While you recover, we handle the legal deadlines and requirements. We can provide you with straightforward legal counsel and work to bring the ideal outcome to your claim.
Common Bicycle Accident Injuries
Injuries in bicycle and motor vehicle accidents can be catastrophic for cyclists. Often, cyclists impact not only the vehicle but also the ground. Some common injuries in bicycle accidents include:
Fractured skull
Broken and fractured bones
Lacerations and cuts
Strains and sprains
Torn muscles and ligaments
Road rash
Post-traumatic stress disorder
Facial and dental injuries
Back, neck, and spinal cord injuries
Internal organ injuries
Paralysis
Burn injuries
Wrongful death
Many of these injuries can lead to temporary or permanent disability or at least require long-term care and recovery. In any car accident in California, insurance claims are filed with the at-fault driver's insurance provider to cover damages. The extreme injuries that result from these accidents are often more significant than insurance claims will cover. This is why a personal injury claim is often necessary to cover additional damages.
Even with significant injuries, insurance providers will work to find ways to provide you with as little compensation as possible. An attorney can work on your behalf to negotiate an insurance claim and a personal injury claim.
Wrongful Death Claims for Bicycle Accidents
Cyclists involved in bicycle accidents can die on the scene or from their injuries. When you've lost a loved one to a bicycle accident, you may be able to file a wrongful death claim. If someone was responsible for the accident, you can hold them accountable. A wrongful death claim is filed instead of a personal injury claim and can provide surviving family members with certain damages. This includes:
Reasonable funeral and burial costs
Income that a deceased loved one would have earned
Loss of consortium, or the loss of the companionship and support of a spouse
Loss of companionship, support, and guidance of other family members
Only certain close family members can file for a wrongful death claim. This includes spouses, registered domestic partners, and children. Then, grandchildren and those with a legal entitlement to the deceased's estate may file.
When you've lost your loved one, it may seem like the wrong time to file for damages. It's not easy to do when dealing with other affairs surrounding their loss and dealing with the grieving process. Filing for damages allows you to hold negligent parties responsible for your loved one's death and gives you and your family financial stability during this unstable time. If you are not sure how to handle a wrongful death claim or whether you should file one, our attorneys can help you understand your situation and what you could do.
Bicycle Rights and Responsibilities in Glendale
Under California Vehicle Code 21200, bicyclists are generally provided similar rights and responsibilities as motorists on the road. Unfortunately, not all vehicle drivers are aware of or respect these rights. Additionally, roads are not always built with bicyclists in mind. Both of these factors can make bike riding more dangerous on public roads.
Bicycles are treated as cars under California law. This means following all road signals and signs and following the flow of traffic. It also means you can't ride your bicycle while under the influence of drugs or alcohol. Cyclists also have the right to be in the road lane if there is no bike lane available.
Unfortunately, motorists may ignore these rights and crowd bicycles in a car lane or pass them when it isn't safe. This can create dangerous situations and even accidents. Bicyclists and drivers have a reasonable duty of care to each other and anyone on the road. In an accident, however, cyclists suffer much worse. Because of this, bicyclists have to use significant care, and drivers should act with more care around cyclists.
Common Causes of Bicycle Accidents
Some bicycle accidents are caused by driver or bicyclist error, while others are caused by unsafe conditions or unavoidable catastrophes. Personal injury claims can be filed when another party is at fault. If the city fails to take care of a roadway, and this causes a bicycle accident, the city may be held liable. An attorney can help you determine if there is an at-fault party in your bicycle accident. Common causes of accidents include:
Distracted driving or biking, such as using a cell phone, eating, or talking
Reckless driving, including speeding, failing to yield the right of way, or aggressive driving
Bad weather conditions and/or poor visibility
Broken road laws by bicyclists or drivers
Unsafe crossings and crosswalks
Unsafe road conditions
Driving or riding under the influence of drugs or alcohol
Bicycle or car component malfunction
The most common types of accidents between bicycles and vehicles include:
Drivers sideswiping a bicycle
Drivers rear-ending a cyclist
Drivers turning into a cyclist's path or crossing without looking
Drivers changing lanes without a signal or warning
Drivers not stopping at lights or stop signs
A suddenly opened car door in a cyclist's path
Drivers causing a bicyclist to swerve
If the driver was negligent in yielding, checking blind spots, or following road signals, an injured cyclist could hold them liable. Though cyclists must use care and caution when on the road, some accidents are unavoidable for bicycles. If you were injured by a driver or other party's negligence, you deserve compensation for your injuries, bills, and other damages.
Proving Negligence in a Bicycle Accident
In order to file a personal injury or wrongful death claim in a bicycle accident, another party must be found at fault. This makes them liable for the accident and your damages. This party must have failed to uphold their duty of care in some way by acting negligently, recklessly, or maliciously. In most bicycle accident claims, the party was negligent. In some cases, multiple parties are responsible for the accident.
In order to prove any party was negligent, the following must be found:
The other party owed you a certain duty of care,
The other party failed to uphold this duty of care in some way,
This failure resulted in the accident and/or injury, and
You suffered legally-recognized damages from the accident or injury.
Those on the road owe each other a reasonable duty of care. Your attorney can help you prove each aspect of negligence, including direct causation between a failure of reasonable care and the accident.
Each bicycle accident claim is unique. The party or parties who may be at fault for your accident could include:
Negligent drivers
Vehicle owners who failed proper maintenance
Employers of commercial drivers
City or state government that is responsible for road upkeep
Pedestrians
Other cyclists
Property owners
Manufacturers or sellers of vehicles, bicycles, or parts of either
Your attorney can review your situation to identify parties that may be at fault and help prove them liable.
Pure Comparative Negligence and Bicycle Accidents
California operates under pure comparative negligence laws. Comparative negligence means that an injured party can still legally claim a portion of their damages even if they were partially at fault for the accident. Pure comparative negligence means that they can recover damages even if they were up to 99% at fault. However, the compensation is reduced by the same percentage.
This means that even if you were partially to blame for your bicycle accident, you could still earn compensation. You may have been distracted while cycling, but the other party may have been under the influence or breaking traffic laws. The other party is still partially responsible. The court will determine the fault between the two or more parties. If you are found to be 20% responsible for the accident, your final compensation is reduced. As long as you are not 100% responsible for the accident, you can claim damages.
Determining percentage fault between parties does not have an exact formula. The advocacy of an experienced attorney can help when comparative negligence laws are involved. They can help you maximize the amount of damages you're owed and reduce your percentage fault as much as possible. This helps you get the most from a claim, even when the court determines you to be comparatively negligent.
Bicycle Accident Lawyer FAQs
Q: Who Is Usually at Fault if a Bicycle Is Involved in an Accident?
A: Any party could be at fault for a bicycle and car accident, including the cyclist, driver, others on the road, or even the party responsible for road maintenance. Frequently, motorists fail to take proper care around cyclists, including failing to yield the right-of-way, failing to look out for cyclists, or not sharing the road. Though drivers are commonly at fault for cyclist and driver accidents, it's important that the accident is investigated to determine which party was at fault.
Q: How Do You Deal With a Bike Accident?
A: Immediately after a bicycle accident, check for injuries and try to remain calm. Call emergency services to get medical care at the scene and file a police report. Even if you don't think you're injured, it's important to get professionally checked. Bicycle accidents can cause injuries like traumatic brain injuries, which may not be noticeable for a day or more.
If you are able to, document the scene of the accident. Take photos of injuries, damages to the vehicle, damage to your bicycle, and other important items on-scene. Exchange information with the driver and get contact information from eyewitnesses. Get in contact with an attorney as soon as possible.
Q: Can I Sue if I Get Hit by a Car on My Bike in California?
A: If you were in an accident that was the fault of another party, you could file a personal injury claim. The driver may have been acting negligently, such as driving distracted or not following road signs. If the driver was at fault for the accident, they are legally and financially liable for your damages.
Q: How Much Do Bicycle Accident Lawyers Charge in California?
A: Each attorney will charge differently, depending on their fee structure, years of experience, and location. It will also depend on how complex or lengthy your case is expected to be. For personal injury claims like bicycle accidents, attorneys will frequently use a contingency fee payment structure. A contingency fee is when an attorney receives a percentage of the final settlement if they succeed in winning you compensation. In California, this percentage is generally 25-40%. If an attorney doesn't win your claim, you owe few to no outside costs.
Making It Right for Bicycle Accident Victims
The Law Offices of Carl D. Barnes want to provide you with the compassionate and effective legal support you need. Contact our team today to see how we can hold the at-fault party responsible.