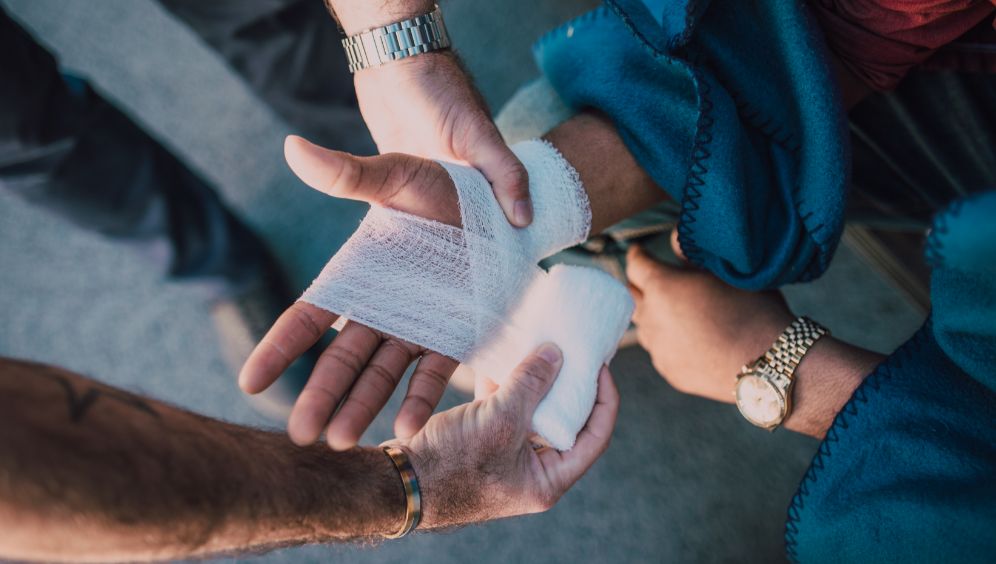 Glendale Personal Injury Attorney
Whenever someone's actions harm another party, this is known as a "personal injury" and may form grounds that enable the victim to file a civil claim for damages. For example, if you recently experienced a car accident, a dog attack, or a slip and fall injury on someone else's property in Glendale, CA, a personal injury attorney can help you recover the damages resulting from the incident.
Legal Representation for Glendale, CA, Personal Injury Claims
The Law Offices of Carl D. Barnes' team offers compassionate and responsive legal representation to injured workers in the Glendale area. We have more than 40 years of experience handling a wide range of personal injury cases, from straightforward claims for easily proven economic losses to multifaceted cases involving a wide breadth of both economic and non-economic damages. Our goal is to help our clients understand all the legal mechanisms in play in their cases, streamline their case proceedings, and reach the best possible outcomes for their recovery efforts.
Why You Need to Hire a Glendale Personal Injury Attorney for Your Claim
It's normal for a victim of a personal injury to wonder whether they must hire legal representation to help them recover. Technically, there is no law stating that you must hire an attorney to file the personal injury claim on your behalf. It is possible to manage your recovery efforts on your own, but while some may see this as a prudent choice for reducing legal expenses, it will create significant additional problems for the claimant and their family.
Hiring an experienced Glendale personal injury attorney to represent you will significantly alleviate the burden you face while recovering from your injury. Instead of attempting to meet strict court filing deadlines and gathering all the documentation your case demands while recovering, you can have an attorney handle your legal affairs so you can focus on your medical needs.
Our team always takes a client-focused approach to personal injury counsel. We will help our clients identify the most important factors in their cases, assist them in gathering the evidence needed to prove liability, and help establish the full scope of their claimable damages. Whatever your situation may entail, you can rest assured that the Law Offices of Carl D. Barnes will leverage the full scope of our professional experience and resources on your behalf in your recovery efforts.
The Kinds of Personal Injury Cases Our Firm Handles
When you decide to pursue legal recourse against whoever is responsible for your injuries, it is crucial that you choose an attorney who is experienced in cases similar to yours. The attorneys at the Law Offices of Carl D. Barnes routinely provide compassionate legal counsel in diverse types of personal injury cases, including:
Motor vehicle accidents, one of the most commonly filed forms of personal injury claim. When another driver causes an accident with you, you can file an insurance claim to recover your losses. However, if they do not have motor vehicle insurance, or if their coverage limits cannot fully repay your total damages, you can proceed with filing a personal injury claim to ensure a complete recovery from the effects of their actions.
Premises liability claims, which result from property owner failure to maintain safe premises for guests, visitors, and customers. If you suffered a slip and fall or other injury on someone else's property, they are liable for your damages under California's premises liability laws. However, these laws do not protect intruders or trespassers, only those with permission to visit a private property.
Dog attack claims. While most people regularly have positive interactions with dogs, it is always possible for a dog to inflict life-changing or fatal injuries. In addition, the state enforces the strict liability rule for dog attacks, so any dog's owner is liable for any and all damage the pet causes to others, regardless of whether the dog has any history of aggression or past attacks.
Pedestrian accident claims. The Glendale area is a busy metropolitan zone with lots of foot traffic. Unfortunately, some drivers do not exercise appropriate care and caution while driving near pedestrians, sometimes resulting in devastating accidents. We can provide detail-oriented legal representation to an injured pedestrian to help them ensure accountability for their losses.
This is not an exhaustive list of all the types of personal injury claims our firm can handle on behalf of Glendale clients. Additionally, we can also provide compassionate legal representation in a wrongful death claim if you recently lost someone you love to someone's act of negligence or misconduct.
Proving Liability for Personal Injuries in the Glendale Area
The first step in any personal injury case is the identification of the party or parties responsible for the injury in question. Your Glendale personal injury attorney will be invaluable in this effort, helping you gather any and all evidence needed to firmly prove fault for the damage you suffered.
Most personal injuries reported in Glendale are the results of negligence (the failure to use reasonable caution in specific situations). For example, driving while looking at a cell phone would be a clear example of a driver failing to uphold their duty to drive attentively. Therefore, when negligence causes a personal injury, the victim must be prepared to prove the defendant owed them a duty of care they failed to uphold and directly caused their damages.
It is also possible for a willful act of harm to result in a personal injury. For example, violent crime or driving under the influence of alcohol can easily lead to severe damage for victims of such incidents as well as criminal charges for the defendant responsible. If you suffered a personal injury from any act of intentional misconduct, your Glendale personal injury attorney would be an invaluable source of guidance when it comes to how their behavior will influence your final recovery.
What Kind of Claimable Damages Are Available in Your Glendale Personal Injury Case?
California law allows the plaintiff in a personal injury case to seek full compensation for all the economic damage they suffered. They can also claim compensation for non-economic damage, namely their pain and suffering. Proving economic damage is typically accomplished by producing the appropriate documentation. For example, you may need to provide hospital invoices and proof of lost income to substantiate your claim. Most personal injury plaintiffs are able to claim compensation for:
Medical expenses, including the cost of all immediate and future medical care necessary to recover from their injuries. Your Glendale personal injury attorney can help you prove the full scope of this damage to ensure the defendant is held appropriately accountable.
Lost income. You can claim compensation for any and all income you lose after your injury. This includes lost future earnings if your injury prevents you from going back to work at all.
Property damage. If you suffered any loss of property due to the defendant's actions, these are claimable economic damages in a personal injury suit.
Aside from these damages, a plaintiff may also claim compensation for the pain and suffering they experienced due to the defendant's negligence or misconduct. If you don't know how to determine an appropriate figure, your attorney can provide valuable advice for this part of your claim. If you suffered permanent damage of any kind, the compensation for pain and suffering that you obtain could form the bulk of your recovery.
What to Expect From Your Glendale Personal Injury Attorney
The right attorney can potentially make a tremendous difference in the outcome of any personal injury case. When the Law Offices of Carl D. Barnes is representing you, we will aggressively pursue full compensation for all of the damage on your behalf. We will also seek the greatest amount of compensation for pain and suffering to adequately reflect the severity of your injury and the scope of the long-term complications you are likely to face because of it.
Our firm takes time to learn each client's unique story. There are no one-size-fits-all solutions that work for every personal injury claim, which is why we are entirely client-focused in every case we accept. We will assist our clients in gathering any and all evidence needed to prove liability beyond any doubt and explore every available channel of compensation open to them.
Time is a critical concern for any personal injury plaintiff. While the statute of limitations for your case may seem like more than enough time in which to file your case, it is always best to start working on your claim as soon as possible to ensure the best chance of recovering as fully as the law allows. When the Law Offices of Carl D. Barnes' team represents you, you have decades of legal experience behind you and a reliable source of guidance and support throughout every stage of your case.
FAQs About Glendale, CA Personal Injury Law
How Do I Prove Fault for a Personal Injury in Glendale?
If you suffered injuries and/or economic losses because of another party's actions, you likely have grounds to start a personal injury claim against them. To win this claim, you must prove they caused the injury in question. It's possible for a personal injury to arise from an act of negligence or failure to use reasonable care, but it is also possible for a person to suffer an injury from an intentional act of harm. Your Glendale personal injury attorney can advise you as to how to approach your unique case.
What Amount of Compensation Will I Receive If I Win My Case?
The potential value of any personal injury claim filed hinges on the scope of the plaintiff's damages, but multiple other factors are likely to come into play. You can usually expect full repayment of your economic damage, including long-term damage you face because of severe injuries. You can also claim compensation for pain and suffering with no cap or limit as to the amount you can include in your claim.
How Long Do You Have to Sue Someone for a Personal Injury in California?
The state enforces a two-year statute of limitations on most personal injury claims. A victim must file their civil action within two years of the date their injury occurred. Some variables may influence the statute of limitations, such as the discovery rule. If the damage from a personal injury is not immediately apparent, the victim's statute of limitations begins on the date they discover the harm in question.
What Does It Cost to Hire a Personal Injury Lawyer?
It is understandable to be worried about how much it will cost to hire an attorney when you already face expensive economic damages from a personal injury. The attorneys at the Law Offices of Carl D. Barnes bill personal injury victims when we win their case; the client pays nothing unless we win. Our contingency fee will be a percentage of your final case award, and you will pay nothing if we cannot secure compensation on your behalf.
What Difference Can an Attorney Make in My Claim?
While it's possible to start a personal injury claim without an attorney, you face many risks in attempting to do so. You would need to meet strict procedural demands from the court while simultaneously facing medical complications and the economic strain of your situation. Working with a Glendale personal injury attorney gives all your recovery efforts a better chance to generate the results you hope to see.
The attorneys at the Law Offices of Carl D. Barnes are committed to providing compassionate and responsive counsel to victims of all types of personal injuries in the Glendale area. We take time to develop individualized case strategies for each client we represent, and we are always available to answer your questions and address your concerns throughout your case proceedings. If you want to learn how our firm can empower your recovery efforts, contact us today to schedule your free consult with a Glendale personal injury attorney you can trust with your case.