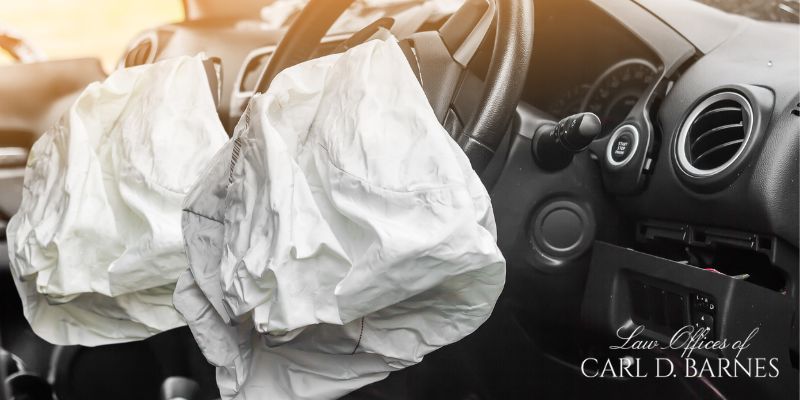 Glendale Car Accident Attorney
Unfortunately, even if you are driving safely in Glendale, CA, and taking all of the necessary precautions, you can be subject to a car accident. Car accidents can be extremely stressful, leaving a mark on your life for years to come. Not only can they result in skyrocketing medical bills, but a motor vehicle collision can also cause long-term stress and uneasiness. By hiring a personal injury lawyer, you can minimize these negative repercussions and get your life back to normal.
At the Law Offices of Carl D. Barnes, we have a team of accident attorneys and Glendale personal injury attorneys dedicated to justice and making things right when it comes to accident cases. Vehicle accidents, including fatal car accidents, can be extremely complex. Our team has years of experience helping clients in need navigate these legal situations and get the emotional and financial support that they need to recover.
What to Do If You Have Been Involved in a Car Accident
Being in a car accident can be a shocking and often traumatic experience. It's important to be prepared in case you face such a situation so that you can take the appropriate steps to protect your mental, physical, and financial well-being.
If you have been involved in a car accident, here are some steps you should take:
Immediately make sure that no one has been injured. Right after the impact is over and it is safe to move, you will want to assess yourself for any major cuts, bruises, or fractures. Do not make any rapid movements in the case of a head injury. Check other passengers in your car for injuries. If you find that anyone in your car is gravely injured, call 911 right away.
Find a safe place. If the conditions are safe, you should get your vehicle out of any major lines of traffic, which could be an area on the side of the road where you can safely step out of the car. In the case that your car is too damaged and incapable of moving, be sure to turn on your hazards so that other drivers know to drive cautiously around the accident area.
Share critical contact information with the other driver. If the driver of the other vehicle is not gravely injured, be sure to get their contact information, as well as their insurance and driver's license number. Give them your information as well. You will also want to document the time and place of the accident and record the license tag number, as well as the make and model of the car.
Get in touch with your insurance provider. Once you are in a safe place and have all of your evidence collected, call your insurance provider and report to them what happened. Your provider will help you make a claim and determine who was responsible for the accident. Through this process, you can get money back for vehicle damages, medical damages, and other necessary costs.
Consult with a clinician. After an accident, it's important to get a medical checkup to make sure you do not have any internal damages that might have been overlooked.
Consider contacting a personal injury lawyer. To preserve your rights and assist you in obtaining the compensation you are entitled to if you have been injured, you may want to speak with a personal injury attorney.
When an accident happens, people tend to panic. However, it is important to keep as calm as possible. It's also important to not discuss the accident details with any witnesses or people from the other vehicle and to avoid the topic of who was responsible for the accident.
Resolving the Accident Aftermath: Who to Contact
When it comes to getting help in the aftermath of a vehicle collision, there are a variety of support systems available at your disposal, such as:
The health system and health personnel. After an accident, it may not be your priority to go sit in a clinic or hospital waiting room. However, it is critical to seek medical advice as soon as possible to make sure that you have not sustained any invisible or unnoticeable injuries. That record can also help you in a personal injury claim.
The police and other law enforcement. Once you are positive that you are in a position of safety, it's important to call the police. They will take down an official report of what happened. Once they arrive on the scene, they can also de-escalate any situation that you might not have been able to handle on your own. Again, their insight could be helpful to your situation.
The employees at your insurance provider. It is your insurance company's responsibility to help you get the financial support you are entitled to after an accident. However, their goal is always to ensure the least payout. Talk with your attorney before accepting any offers.
Call a personal injury lawyer. You typically cannot go wrong by calling up a lawyer with experience in personal injury law. They can provide you with critical legal advice upfront. An experienced car accident attorney can easily understand your car accident case and can likely help ease your post-accident stress levels.
Remember that your first priority after an accident should be your health and safety. Once you have addressed these needs, you can move on to pursuing financial compensation and indispensable legal advice.
Different Glendale Car Accident Examples
Believe it or not, there are many different kinds of car accidents that can occur, with some being more severe than others. Some common types of car accidents that you might find yourself subject to in Glendale, California, are:
Rear-end collisions. Rear-end collisions are the most common accidents to occur not only in California but also in the United States. If a driver is distracted, driving bumper-to-bumper, and stopping too quickly and suddenly, they put themselves at risk for a 'fender bender.' Such accidents can lead to critical medical injuries, including whiplash, certain soft tissue injuries, neck injuries, and back injuries.
Side-impact collisions. These collisions are colloquially known as 'T-bone collisions' and happen when a vehicle slams into the side of another. Side-impact collisions usually occur in settings such as intersections as a result of a person running a stop sign or red light. They can result in severe brain injury, broken bones, and trauma to the spinal cord.
Multi-car pileup. This kind of accident, which can be extremely serious. It includes more than two vehicles. When three or more cars crash into each other one after the other, a multi-car pileup occurs. Injuries that can result from multi-car pileup crashes are myriad but include broken bones, head trauma, and internal injuries.
Hit-and-run accidents. This type of accident happens when a reckless driver, who collides with another vehicle, person, or object, leaves the scene before they can be properly identified. Not only can people get seriously hurt, but they can also die as a result.
Rollover accidents. Rollovers happen when a car is launched rotationally, either upside down or onto the side. These accidents are usually a result of reckless driving, when the driver is speeding or turning too sharply. Vehicle defects and extreme weather can also be contributing factors. Head injuries and nervous system damage can come as a result.
Because of the serious nature of these types of accidents, it's important to take the steps necessary to care for your health and safety and to know your legal rights.
Common Glendale Car Accident Damages
The aftermath of car accidents in California can have serious consequences and account for various damages. Some common forms of such damages are:
Property damage. Property damage to personally owned vehicles, private infrastructure, and public infrastructure can happen as a result of a vehicle collision.
Personal injury. While injuries associated with car accidents can be small, such as bruises and lacerations, they can often be more serious. Brain trauma, spinal cord injuries, internal organ trauma, and extreme fractures are some of the injuries that car accident victims face.
Medical expenses. Typically, medical bills add up the fastest after an accident. Expenses can include visits to the ER, overnight stays in the hospital, tests being run by clinicians, and physical therapy appointments.
Lost wages. If you miss work because of an accident or an injury associated with the accident, you may lose significant wages or parts of your salary.
Pain and suffering. After a car accident, your quality of life can significantly deteriorate due to the resulting emotional and physical impacts of the crash.
Wrongful death. In Glendale, California, if a family member loses a loved one in a car accident because the other driver was being careless or reckless, they can file a wrongful death lawsuit against the driver who was responsible for the accident. In such a lawsuit, you can try to recover damages for the burial or funeral ceremony, medical costs, decrease in income, and emotional damages.
It's important to remember that the damage associated with car accidents is not just physical. Damages can be deeply emotional, and impacts can last for months and even years. Of course, such collisions can also have a massive financial impact.
Staying Safe on the Road: Glendale Safe Driving Techniques
Safe driving techniques must be exercised by people on the road to reduce the risk of car accidents and to be sure that both drivers and passengers are safe. Some specific techniques you can employ as a safe driver are:
Always watch the road. You should never have your attention diverted away from the road when you are driving. Eating breakfast, answering texts, and putting on makeup are all activities that can easily lead to an accident.
Stay on guard. As a driver, it's your responsibility to be aware of what is happening on the road. Be sure to use your rearview mirrors to be aware of vehicles and objects behind you. Watch out for pedestrians or stray objects in your path.
Abide by all traffic rules. You should be knowledgeable about traffic laws in California and follow them. Be sure to stop fully at all stop signs, wait your turn at a 4-way stop, and slow down when the traffic light turns yellow.
Keep a distance from vehicles in front of you. You will need to make sure you have ample room between your car and the car ahead of you. The rule of thumb is to stay the length of a car per every ten mph that you are going.
Keep your patience. If you are running late, do not speed or run red lights. Putting yourself and others at risk is not worth arriving a few seconds earlier.
These safe driving techniques can reduce your chances greatly of getting in a car accident. However, it is critical to remember that factors out of your control, like inclement weather, poor road conditions, and reckless drivers, can put you at risk as well. If you do find yourself in an accident, reach out to a personal injury lawyer to get the support you need.
Glendale Car Accident Damage Claims
You should consider pursuing legal possibilities to get compensation for damages if you have recently fallen victim to a car accident in Glendale. You can follow these steps to kick the process into gear:
Collect the information you have recorded. You will need to gather information like photos of the crash, witness contact information, medical bills and records, and notes about the conditions of the accident. Also, obtain a copy of the resulting police report.
Find a personal injury attorney who you trust. Once you have collected your evidence, you should pass it over to an attorney experienced in car accident litigation. They will help you negotiate with insurance companies and give you legal advice on how to proceed.
File your claim. The attorney you hire can help you with submitting your claim to the insurance company of the driver who was responsible for the accident. In response, the insurance provider will evaluate the claim and propose a settlement.
Decide whether you want to settle the case or pursue litigation. If you and your attorney decide that the settlement offer from the insurance company is congruent with your resulting damages, you can work on finalizing an amount. However, if you cannot agree on a settlement, your attorney can help you file a lawsuit.
Attend the court hearings. If you file a lawsuit, you will have to go to court to explain what happened during the accident, using evidence to back your claims. Your attorney can help you build up a strong argument.
The process of getting recompense for the damages accrued from your car accident can be long, exhausting, and disorienting. However, with the help of a knowledgeable personal injury lawyer, you will be able to work through the claims process and resulting legal processes as well.
How To Know if You Should Consult With A Lawyer
If one or more of the following apply to you, you may be in need of a California car accident lawyer:
You are physically or emotionally injured. If you are going through pain and suffering, dealing with medical injuries, or have lost some of your income due to skipped work, you may be able to get recompense for these damages with the help of a lawyer.
There is confusion regarding fault. A lawyer can help you work out the specifics of your case and help you build an argument in your defense to prove that the other driver was at fault.
Your insurance company or the insurance company of the at fault driver is lowballing you. A lawyer can help you negotiate with insurance companies to make sure you are properly compensated for damages sustained.
Your case is particularly complex. If you have feeling overwhelmed by the details and legal jargon involved in your case, a lawyer can help you understand how to move forward.
When it comes to your rights and getting proper compensation for your damages, you should make sure that you have a strong legal support system to help you. A Glendale car accident lawyer can help you get back on your feet.
FAQs About Glendale, CA Car Accident Laws
How Much Does a Car Accident Lawyer Charge in California?
In California, most car accident lawyers do not charge a lump sum or hourly fee upfront. They work on contingency fees, which means that they only take a percentage of the money you are awarded in court, which is usually around 30% to 40%. If you don't win the case, you will not need to pay. It's important to discuss what percentage a lawyer will take from your case during your initial consultation.
Do I Need a Lawyer for a Motor Vehicle Accident in California?
If you were severely injured, have a complex case, or are experiencing pain and suffering as a result of your car accident, you should highly consider working with a car accident lawyer. It is generally advisable to get legal counsel in such cases to ensure that you are properly compensated and not being taken advantage of by insurance companies or the at-fault driver.
How Long Do I Have to File a Lawsuit after an Auto Accident in California?
When it comes to filing a lawsuit for damages after a California car accident, the rule of thumb window of time for filing a claim is two years, which is written into the statute of limitations for personal injury claims. However, this deadline for filing can vary in some instances. It's important to touch base with a personal injury lawyer to find out what the deadline is for your particular case.
What Damages Can I Recover in a Car Accident Lawsuit in California?
Getting injured in a CA car accident can result in a multitude of damages, including, but not limited to:
Medical bills and other related expenses.
Lost income due to missed work.
Pain and suffering, such as emotional trauma or long-term anxiety.
A seasoned personal injury lawyer can work with you to discuss your options and help you construct a plan to get damage compensation.
Secure The Representation You Need Today
Getting in an automobile accident can be overwhelming, but the aftermath can be manageable when you have the support you need. A compassionate lawyer at the Law Offices of Carl D. Barnes can help you get money back for damages and medical bills, as well as any other compensation that you may need. For a consultation to discuss your case, get in touch with us right now.