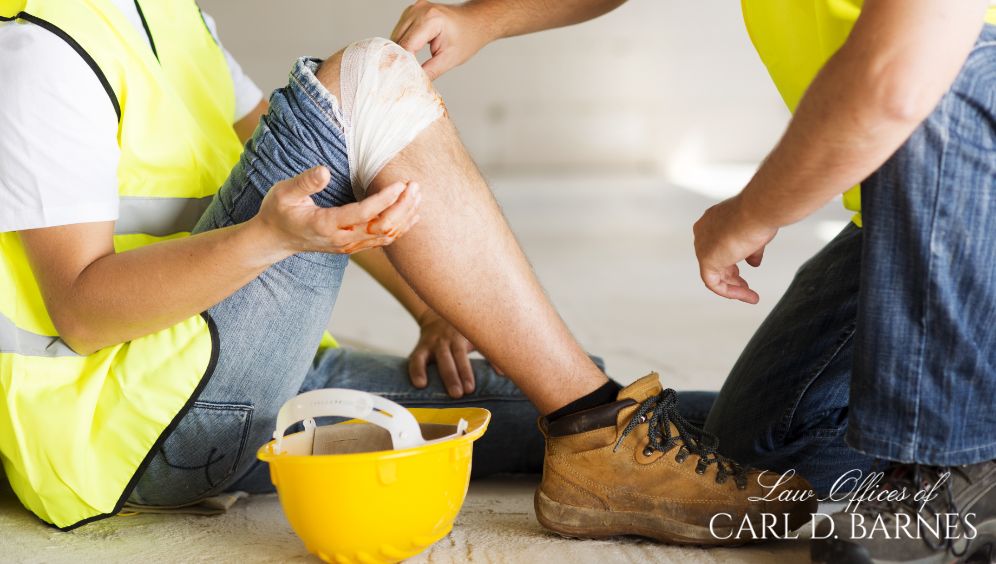 Glendale Construction Accident Attorney
Construction work is one of the most dangerous forms of employment. A construction site is a dangerous place, and it's the most dangerous for construction workers who spend hours a day there. It can also be potentially dangerous for bystanders. Construction sites have to follow important safety regulations to maintain safety. Hazards can come from dangerous equipment, employees, safety management, employers, and improper regulatory compliance. Construction site accidents can cause traumatic and life-changing injuries to employees and to third parties.
If you were the victim of a construction site accident in Glendale, CA, you could receive compensation for your damages. Injuries from a construction accident can lead to immense medical costs, a long recovery, and other complications. Third parties and bystanders can file for personal injury claims if a party's negligence was the cause of the accident. If you are an employee, you may be able to file for a personal injury claim in addition to a workers' compensation claim and receive damages beyond what is available in a workers' comp claim. If you want to file a personal injury claim, you need a construction accident attorney to make the process faster, easier, and more likely to be successful.
Protecting the Rights of Those in Glendale Construction Accidents
Being injured on the job or near a construction site can be painful and frustrating. It can be especially upsetting if it was caused by another party's negligence or carelessness. At the Law Offices of Carl D. Barnes, we are unrelenting in pursuing justice for your claim. If another party was to blame, such as an employer, business, or manufacturer, we want to hold them accountable. Our attorneys have won more than $1 billion for victims of personal injuries and have decades of experience between them.
Our lawyers can listen to your situation and determine if you have a claim. We can investigate the accident and gather evidence. If you are an employee, we can determine if you have legal options outside of workers' compensation. No matter how you were injured, we can help you determine the at-fault party so you can hold them liable for your medical costs, pain and suffering, and additional damages.
Bystander Personal Injury Claims
Construction sites can cause damage to pedestrians and other bystanders. Though site workers are at a higher risk, those walking, driving, or passing by could be injured by construction sites. There may be falling objects, unsecured scaffolding, loose debris, or improperly safeguarded hazards. Most personal injury claims would be made against the construction company, which is liable for the actions of its employees and for other safety regulation failures. There may be other parties who should be held liable. In order to file a personal injury claim, you must prove fault for the accident. An attorney can help you determine a negligent or reckless party.
Employee Personal Injury Claims
In most cases, an injured employee must seek compensation through the workers' compensation insurance system. However, there are some situations where a personal injury claim is appropriate. This includes:
Your employer was grossly negligent or deliberately caused or aggravated your injury
Your employer tried to hide the injury and/or its connection with your employment
A third party's negligence partially caused the accident, including a contractor or manufacturer
Your employer did not hold state-required workers' compensation insurance
A personal injury claim can be beneficial in obtaining additional types of damages. A workers' compensation claim will cover damages of lost income, medical bills, and the impact of disability. However, a personal injury claim can also cover additional damages such as pain and suffering or other noneconomic damages. Unlike a workers' compensation claim, you have to hold a party liable in a personal injury claim.
Who May Be Liable in a Construction Site Accident Claim?
When a party is held liable, it means they are legally and financially responsible for a victim's damages. Parties that may be liable include:
Construction company. The construction company is often liable for injuries that occur on the premises. It is likely to be held liable for harm to bystanders because of unsafe conditions, employee negligence, or failure to provide proper training. It may even be held liable for harm done to employees in cases of extreme negligence.
Contractors and subcontractors. Like construction employees, these workers are responsible for maintaining reasonably safe locations.
Product manufacturers and suppliers. These companies, designers, and producers have a responsibility to ensure safe products. They may be liable if an unsafe and/or malfunctioning product caused a construction site accident.
Property owner. If construction is done in an unsafe location, the property owner may be held liable for not fixing damages or providing safety precautions.
Engineers and architects. A construction accident may occur because an engineer or architect failed to ensure a worksite was safe.
Each construction accident is going to have unique circumstances. One or more of these parties may be held liable for damages.
Negligence in a Construction Site Accident
For a party to be considered negligent, they must have owed the injured party a duty of care and breached that duty. This breach should have caused the accident, which led to the injured party suffering damages. Once negligence is proven, the party can be held liable for those damages.
Even if you were partially at fault for the accident, you can still earn compensation. Under California pure comparative negligence laws, you can be up to 99% liable for the accident and still have the right to compensation. The final compensation amount is reduced by the same percentage as you are comparatively negligent. In order to get the most possible compensation from a personal injury claim, an attorney can argue for the most compensation and the least comparative negligence percentage possible.
Common Types of Construction Accidents
Both employees and bystanders can suffer severe harm from accidents. Common types of accidents on construction sites include:
Slips and falls off of ladders, scaffolding, or even on debris or loose objects on the ground.
Falling objects like tools or building materials can hurt anyone on or around the site.
Structural collapses, including from underground work, improperly placed scaffolding, or weaknesses in buildings.
Machinery accidents, including equipment malfunction, flying debris, or misuse of tools.
Construction vehicle accidents can be caused by human or machine error and cause significant damage.
Occupational illnesses mostly impact employees and are caused by exposure to chemicals or dangerous substances or by inhaling dirt and dust for many months.
Electrocution can happen from new or exposed wiring and can cause injury or death.
Construction Accident Lawyer FAQs
Q: What Is the Most Common Accident in Construction?
A: The most common type of accident on construction sites involves falling. Construction employees are often on ladders, scaffolding, high floors, and roofs. Even falls from low elevation can result in serious injuries. Falls can cause broken and fractured bones, traumatic brain injuries, paralysis, and other life-altering injuries. They can also be fatal. Falls can be caused by failure of safety procedures, improper safety gear use, or faulty scaffolding.
Q: How Long After an Accident Can You Sue in California?
A: The statute of limitations is the amount of time you have to file a certain claim. For most personal injury accident claims, the statute of limitations is two years from the date of the accident. If you were unaware that the accident was another party's fault, the statute of limitations is one year from the date you knew or should have known. If you don't file your personal injury claim within the statute of limitations, you give up your right to compensation for medical costs, lost income, lost earning capacity, pain and suffering, and other damages.
Q: How Can Construction Sites Prevent Accidents?
A: There are several things a construction site can do to increase safety:
Follow state Occupational Safety and Health Administration (OSHA) guidelines.
Provide effective workplace safety training and procedures in case of emergencies.
Ensure employees are familiar with hazards and safety regulations specific to their job duties.
Provide appropriate protective equipment for employees and others on the worksite.
Ensure a well-kept, clean, and well-lit work environment.
Provide continued safety training and meetings to reinforce training.
Maintain construction equipment, tools, and regularly used items.
Q: What Are Most Lawyer Fees for Construction Accidents?
A: Lawyer fees depend on several factors, including their fee structure, the number of years they've worked in law, and where their firm is located. It also depends on how complex your case is. The fee structure for many personal injury claims like construction accidents is a contingency fee structure. Under a contingency fee, an attorney is not given any upfront cost. The client may pay some court costs, but an attorney is paid only if they are successful in obtaining a settlement. They are paid a percentage of the settlement, which is usually 25-40% in California.
Making It Right for Victims of Unsafe Construction Sites
When you are severely injured from a construction accident, it can be overwhelming, and you may not be sure what to do. If someone was at fault for the accident, you deserve compensation. At the Law Offices of Carl D. Barnes, we want to help you maximize the compensation you get from a claim. Contact our team today so we can help you determine if you have a valid personal injury claim.