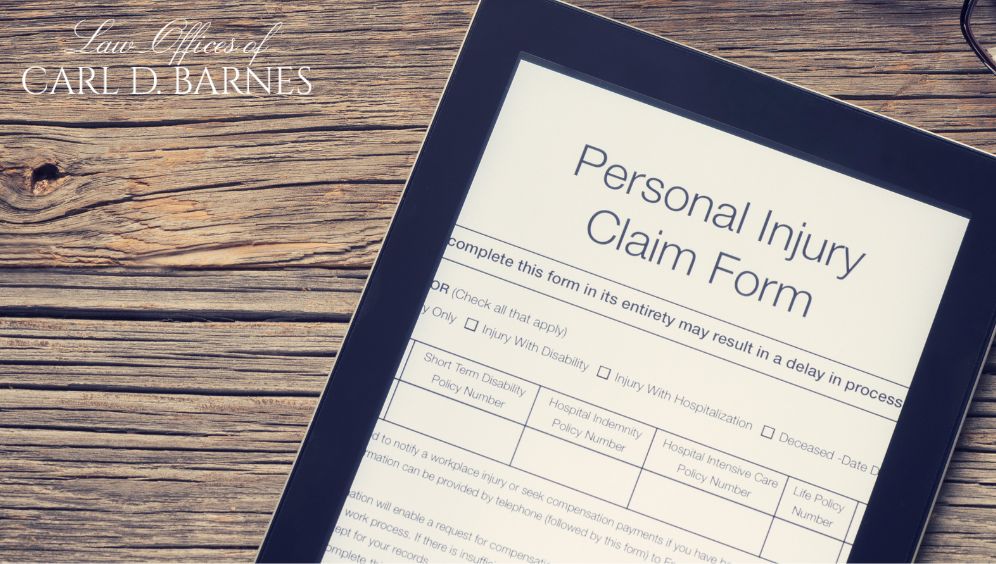 Merced Personal Injury Attorney
When you suffer a personal injury in Merced, CA, you find yourself in a fight. You're in a fight to get healthy. You're in a fight to return to your normal life, at least as much as possible. That's not the only fight you find yourself in, though. You might be fighting financial difficulty because of the cost of medical bills and missed work, or you might be fighting the mental anguish of dealing with your injury. The last you probably think you want to do is add one more fight to your situation.
A personal injury claim can sound like a fight, and sometimes it is. However, it is the one fight that can make all your other fights easier. It's also a fight you won't have to go through alone. At the Law Offices of Carl D. Barnes, we are ready to fight with you. We want to help you win that fight so you don't have to fight so hard with everything else you are facing.
A Personal Injury in Merced, California
If you've been injured, physically, emotionally, or psychologically, by someone's wrongdoing or negligence, then you may very well have a personal injury case. However, it may feel like that's a broad description and leaves you feeling even less sure about your case than before. Rest assured, our team at the Law Offices of Carl D. Barnes can help you. We can take a look at your circumstances and help you understand your options. To get a sense, though, of the kinds of things that make for personal liability cases, just consider some common examples:
Medical Malpractice
Truck Accidents
Motorcycle Accidents
Bike Accidents
Construction Site Injuries
Slip-and-Fall Accidents
Premises Liability
Slander or Libel
Understanding Negligence
One of the more significant parts of many personal injury cases is proving negligence. This is, of course, in contrast to proving malicious intent, which is often much more difficult and not a factor in the incident leading to injury. What makes proving negligence so important is that it will likely determine whether damages are awarded or not. Proving negligence is what determines the defendant acted inappropriately and proves the connection between the defendant's actions and the plaintiff's injuries. Negligence is broken down into three components that must be proved:
A Duty to Care – This simply means that there was a reasonable expectation that the defendant would behave in a certain fashion that was cognizant of those who might be affected by their actions. For instance, a driver on the road has a duty to care about how their behavior might impact others on the road as well.
A Breach of Duty – If the defendant has a duty to care, the standard for how they should behave is how a reasonably careful person might behave in their place. This means that if the defendant acted when a reasonably careful person would not act, it is a breach of duty. The same is true if the defendant didn't act or acted differently than a reasonably careful person would be expected to.
Causal Link – The defendant's breach of duty must be shown to be the cause of the injury.
Demonstrating the chain of negligence through to injury is one of the things that makes a lawyer so vital to a personal injury claim. The defendant's representation will attempt to take apart and cast doubt on a negligence argument, but our experienced lawyers have seen almost all the tricks before, and we can help put together a solid negligence argument for your case.
Don't Delay Filing
Personal injury cases have a statute of limitations of two years from when the injury occurred. That means a case must be filed in that time frame. However, it is possible to file later only if the injury is discovered later. In that case, you will have one year from the discovery of the injury before you must file the claim.
Negotiation or Filing
If possible, many parties might prefer to negotiate an agreement before the situation gets to the point of filing. The actual civil court process can be very expensive and time-consuming, so negotiation to avoid that situation is probably worth attempting first. However, if no agreement can be reached, then it may make sense for the plaintiff to file before the statute of limitations runs out.
California Damages
The exact damage process for every case is going to be unique and reflect the nuances of that case. In each case, damages will be awarded from one, two, or three different types of damages, which are:
Economic – Damages in this category are quantifiable. They have a value that can be assessed because they are either a monetary cost incurred by the injured or something whose monetary cost can be assessed by comparing it with something similar that has sold recently. Some common costs that get covered by economic damages are:

Medical Costs
Property Damage
Lost Wages
Reduced Future Income

Non-Economic – These damages cover things that are unquantifiable. They are things that can't be bought or sold. The court will consider the nature of these concerns, take a look at how similar circumstances were awarded, and make their own determination of what the damages should be. Some of these non-economic damages are meant to cover things like:

Pain & Suffering
Loss of Consortium
Emotional Distress
Loss of Enjoyment in Life

Punitive – Punitive damages are less about getting the plaintiff what they are owed and more about making sure the defendant is dealt consequences. These damages are supposed to act as a civil punishment against the defendant and as a deterrent to push others not to make the same kinds of mistakes.
FAQs About Merced, CA Personal Injury Law
How Do I Know if My Injury Qualifies for A Personal Injury Case?
In California, there are three kinds of injuries that qualify for a personal injury claim:
Physical injuries
Emotional injuries
Psychological injuries
These injuries must be a product of another entity's wrongdoing or negligence. There is a wide range of injuries that Californians have sought damages for. The particulars of each case determine whether it would be suitable for a suit or not. An experienced personal injury lawyer can help you better understand if your case is a good fit for filing a claim.
What Is the Typical Damage Award for a Personal Injury Claim?
Every case is so different that there isn't really anything that could be called a "typical" award. The court will award damages as they see fit regarding the unique circumstances of your case. The damages that get awarded will be either economic, non-economic, or punitive. Economic damages are damages that can be quickly quantified because they have a market price or cost, such as medical costs, lost income from missing work, and property damage. Non-economic damages are things like pain and suffering, loss of consortium, or emotional distress, which are not quantifiable. Punitive damages are meant to act as a punishment and deterrent.
When Should I File a Personal Injury Claim?
You will need to file your claim within the statute of limitations. In California, this means filing within two years of the injury. If the injury is not discovered until after that two-year period, you are still able to file as long as it is within one year of the discovery of the injury. However, just because you have two years to file doesn't mean you should wait. A claim depends on solid evidence, and that tends to be more plentiful closer to the date of the incident that caused the injury. So don't delay in contacting a lawyer quickly after your injury.
How Do I Prove My Injury Came From Negligence?
Many claims can hinge on the question of proving negligence. If negligence isn't proven, the claim may just stop dead right there. An experienced lawyer, though, is able to understand which cases fit the requirements for negligence. They can also make an argument for it. To prove negligence, they need to prove that, surrounding the injury, there was a duty to care, a breach of care, and an injury as a result of that breach. They must prove that the defendant did not act as a reasonably careful individual would and that their failure to do so caused your injury.
Your Injury, Your Damages
When someone else causes you harm, whether intentionally or out of negligence, you are owed a level of restitution. The standard in the law is an attempt to make you "whole." That can seem unrealistic given the nature of some injuries, but even so, the personal injury claim process can give some level of restoration and stability in your circumstances. Of course, most parties don't want to pay what they owe. You have to fight for what you deserve, and if you have to fight, you are better off with someone who understands the battle by your side. At the Law Offices of Carl D. Barnes, we know how to fight that fight. We've fought it before, and we've won that fight many times. Contact us today if you are ready for us to fight with you.