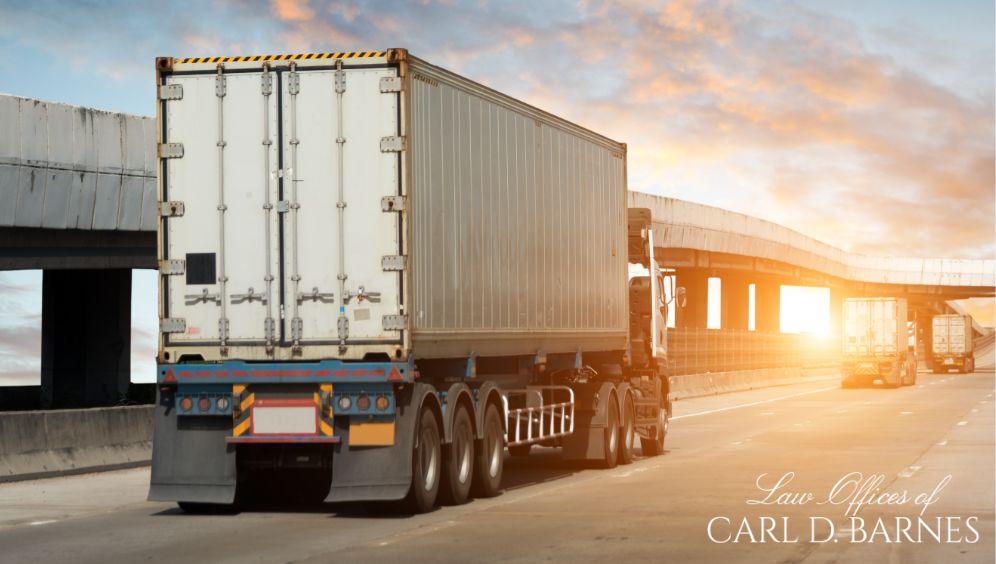 Glendale Truck Accident Attorney
Any vehicle accident in Glendale, CA can cause potentially traumatic and life-altering injuries, but truck accidents are likely to be much more devastating. Commercial tow trucks, 18-wheelers, and other large vehicles can cause significantly more damage due to their size and weight than most personal vehicles. Though the trucking industry is highly regulated, accidents still occur. A trucking accident may cause severe injuries and fatalities.
If you or a loved one were a victim of a truck accident, you deserve compensation to cover your losses and damages. After any car or truck accident in California, you can file a claim with the insurance provider of the at-fault driver's insurance provider. In truck accidents, this may be the trucking company's insurance provider. However, these insurance claims may not be able to cover the immense damages caused by a truck accident. You may need to file a personal injury or wrongful death claim to fully cover your losses. A Glendale truck accident lawyer can fight for the compensation you need.
Making It Right for Truck Accident Victims and Their Families
If you or a loved one were injured in a truck accident, your world may be changed. You need an attorney with the experience necessary to handle and direct your claim. At the Law Offices of Carl D. Barnes, our attorneys have decades of combined experience in helping families and communities hurt by accidents. We use this experience to work for your interests.
We are unrelenting in our pursuit of your justice and want to hold the at-fault party accountable. This may be the trucking company, the truck driver, a third party on the road, or a trucking manufacturer. We gather evidence in support of your claim to fight for coverage for medical costs, lost income, property damages, and other losses from your trucking accident. It's important to us to provide you with legal support and counsel during this difficult time. You have plenty of things to worry about, and we want to handle your legal case and negotiations for your claim so you don't have to.
What Causes Truck Accidents in Glendale?
Truck drivers provide an important service to individuals and companies nationwide. These drivers are aware of their responsibility and duty of care on the road. Unfortunately, drivers may be expected to meet strict deadlines and fail to follow federal regulations for rest between shifts. This can hurt their ability to drive safely and can cause accidents. Other drivers do not take their duty of care seriously and may engage in reckless and illegal behavior while driving. Many trucking accidents are caused by other parties.
There are several causes of truck accidents, including:
Strict Shipping or Trucking Company Deadlines
When drivers are required to meet unrealistic deadlines, they may drive too long and become fatigued. They may also speed to meet these deadlines. This can result in significant accidents. Federal regulations require drivers to take certain rest periods between shifts. When shipping and trucking companies may not follow these regulations, people can get hurt.
Truck Driver Error
Drivers can fail to meet federal regulations for rest, putting themselves and others on the road in danger. Truck drivers can engage in distracted or reckless driving actions like any other vehicle driver, but the consequences of an accident are much worse. Drivers may be distracted, commit traffic violations, fail to follow road signs, or drive aggressively. They may even drive under the influence of drugs or alcohol.
Truck Issues
A trucking accident may be caused by an issue outside of the truck driver's control. A trucking company or third-party maintenance provider may fail to properly inspect a large commercial vehicle. A badly maintained truck is a significant danger on the road. Brakes and tires may give out, taillights may not work, or other issues may cause catastrophic crashes. A truck may also be improperly loaded, causing a rollover or other serious accident. Trucks may also have defective components or other manufacturer errors.
Weather or Road Conditions
Low visibility or other bad weather can make it much harder to drive safely and can result in a commercial truck hydroplaning or swerving out of lanes. Road conditions like potholes and uneven pavement can also contribute to accidents. Many causes of truck accidents should be avoidable if not for the negligence or carelessness of another party. More than one party may be at fault for the injuries you or a loved one suffered from a trucking accident. An attorney can help you determine the cause of the crash.
Injuries in a Truck Accident
The injuries caused by a truck accident can be devastating, especially to those in smaller passenger vehicles, pedestrians, motorcyclists, and bicyclists. Trucking accidents can cause a range of severe injuries, including:
Cuts and lacerations
Strains and sprains
Crushing injuries
Traumatic brain injuries
Broken and fractured bones
Spinal cord, neck, and back injuries
Wrongful death
Lost limbs
Nerve damage
Scarring and disfigurement
Burn and road rash injuries
Emotional and mental trauma
Filing a personal injury or wrongful death claim is often necessary in a truck accident to cover damages. Ideally, an insurance claim with the trucking company or insurance provider would cover these damages, but this often isn't the case. These providers want to provide victims with as little compensation as possible, and insurance claims have limits to types and amounts of compensation. Many truck accidents cause more damage than an insurance claim can cover. Your Glendale truck accident lawyer can negotiate for the greatest compensation available from an insurance provider and determine if filing a personal injury claim is in your interests.
How Is Liability Determined in a Truck Accident Claim?
For many personal injury claims, liability is the legal and financial responsibility for an accident or injury. A party who failed to uphold their duty of care and acted negligently, recklessly, or maliciously is considered liable for damages caused to injured parties. Truck accidents are complex, and there are frequently multiple parties at fault. A truck driver may have behaved negligently, but they may have been forced to meet a strict deadline, and trucking companies are responsible for the actions of their employees.
In order to prove negligence, you have to prove that the driver or other at-fault party owed you a duty of care and that they breached this duty beyond any reasonable person would in the same situation. You must then prove that this breach of duty directly caused the accident or injury and that you suffered damages as a result.
Drivers on the road owe each other a duty of care, and manufacturers of products have a duty of care to their consumers. Your attorney can help you prove each aspect of proving negligence and liability, including gathering evidence of damages suffered.
Comparative Negligence in Trucking Accidents
In California, there are comparative negligence laws that may impact a personal injury claim. Comparative negligence means that even if an injured party is partially responsible for the accident, they can still claim compensation for damages. This is true whether there are two or more parties at fault for the accident. Because California is a pure comparative negligence state, this means that the accident can be up to 99% one party's fault, and they can still claim compensation.
The court will determine the percentage fault the injured party had in the accident and reduce the final compensation by the same percentage. If you file a claim for injuries and are found to be 15% responsible for the accident, your compensation will be reduced by 15%. In order to maximize compensation in a claim, you must argue for all the damages you deserve. Determining fault in an accident is not exact and can be negotiated. An attorney can negotiate for your interests when the court is determining comparative negligence percentage fault.
Who Can Be Held Liable in a Trucking Accident?
There are several parties who could be held liable in a truck accident. They include:
The trucking company. This may be for ignoring regulations or imposing unreasonable deadlines on drivers.
Truck component manufacturer. This may include a defective truck part or truck design.
The shipper. A shipper may have improperly loaded or secured items in a truck.
Truck maintenance company. An unsafe truck may have been cleared to go on the road.
The truck driver. A driver may have been negligent or reckless.
Other drivers. Another driver may have been careless or reckless and caused a truck driver or car driver to crash.
Other parties on the road. Pedestrians, bicyclists, or other parties on the road may have caused an accident.
The owner of the cab or trailer. An issue with the truck may be the fault of the owner.
The state or city government. Accidents caused by improperly maintained roads may be the fault of the government.
Trucking companies are frequently liable parties in truck accidents because they are liable for their actions and the actions of their drivers. These companies have a responsibility to lessen the risk of accidents, and failure to do so can hurt a lot of people. If you were injured because of the negligence of a truck driver, you may be able to file a claim against the driver and their trucking company.
What Damages Can I Claim in a Trucking Accident Claim?
When you've determined the liable party and proved that they were at fault for your injuries and damages, you have to determine what your damages are worth. Many people underestimate the damages they are owed after an accident. When this happens, you may accept a settlement from an insurance provider that only covers medical costs or lost income and does not cover any of the future challenges you may face from your injury. An attorney is useful in understanding the scope of compensation you could receive.
Medical bills. This includes past medical costs like hospital transportation, surgeries, hospital stays, and medications. It also includes future medical costs for potential medical complications, ongoing treatment, and physical therapy.
Lost wages. If you missed work to recover from the injuries caused by the accident, compensation should cover a portion of those wages.
Lost future income. If your injuries prevent you from returning to your work or from completing your normal range of job duties, you can claim compensation for lost future wages or lost earning capacity.
Property damage. This may include damage to your vehicle or other personal items in the vehicle.
Pain and suffering. This is a form of noneconomic damages meant to compensate for the harm caused by physical and emotional pain.
Punitive damages. These are awarded by the court to punish the responsible party if they were extremely reckless, grossly negligent, or malicious in their actions.
In California, there is no limit to noneconomic damages for certain types of personal injury cases, including truck accidents. A professional can help determine a fair calculation of noneconomic damages that ensures you are properly compensated.
How Can a Glendale Truck Accident Attorney Help Me?
An attorney handles your claim for you so that you can focus on recovery. They can represent your interests to insurance providers, in negotiations, and in litigation if necessary. In a trucking accident claim, the truck company is going to use considerable resources to avoid liability. This may include claiming you were liable for the accident. Your attorney can investigate the crash location and evidence of the accident to determine liability and the at-fault parties and to hold them responsible for the damages you suffered.
This situation may be new and overwhelming to you, but your attorney has done this before and knows how to fight for your rights. Working with an attorney can give you your greatest chance at the highest amount of compensation.
What to Do After a Truck Accident
If you are in a truck accident, here are some steps you should take:
Get somewhere secure. If possible, get out of a vehicle and get out of harm's way.
Get medical treatment. Call to report the accident and get emergency medical care. Truck accidents can cause life-threatening injuries. Injuries like traumatic brain injuries may not be apparent until a day or two after a crash. It's essential to have potential injuries checked and documented by medical providers.
Provide a police report. Report the incident to law enforcement as soon as possible. These records are important for claims.
Document the scene. If you are able to, take pictures and videos of the accident scene, your injuries, and damage to your vehicle. Exchange contact information with the truck driver. Find eyewitnesses of the accident and get contact information for them. This includes names, phone numbers, emails, and home addresses.
Be careful what you say. Though you want to ensure that others in the accident are alright, you want to be careful. Certain statements may be used against you, even an apology.
Contact a personal injury attorney. They can help you determine the next steps for a claim.
Truck Accident Lawyer FAQs
Q: How Much Are Most Truck Accident Settlements?
A: The settlement amount in a truck accident claim will rely on the severity of damages and injuries you suffered. Your settlement may include past medical costs, future medical needs, lost income, lost earning capacity, emotional trauma, and pain and suffering. An injury that causes life-long complications, prevents you from returning to work for a long time, and/or permanently disables you will have a significantly greater settlement. An attorney can help you calculate the damages applicable to your unique case.
Q: What Are Most Lawyer Fees for a Truck Accident in Glendale, CA?
A: Each attorney will have different fees, depending on their fee structure, location, experience, and the complexity of your case. For a truck accident claim and other personal injury claims, attorneys frequently use a contingency fee structure. This means that your attorney gets paid a percentage of the final settlement and has limited to no costs outside the contingency fee. In California, this percentage is limited to 25 to 40% of the settlement, depending on the amount obtained. It's important to always understand an attorney's fees prior to working with them.
Q: How Long After a Truck Accident Can You Sue in California?
A: For a truck accident in California, the statute of limitations is two years. The statute of limitations is the time frame in which you can file a claim. This two-year clock begins from the date of the accident. It is one year from the date you knew or should have known that someone was responsible for the accident and injury. If you don't file your claim within this time, you lose your right to receive compensation. The sooner you begin working with the Law Offices of Carl D. Barnes, the sooner we can begin building your claim.
Q: Do I Need a Lawyer for a Truck Accident in California?
A: Though you are not required to work with an attorney to file a truck accident personal injury claim, it is beneficial. Without an attorney, you will be recovering from your serious injuries while gathering evidence, filing your claim, negotiating with insurance providers, and representing your rights. Legal claims are difficult in any situation, but they are much harder while you are trying to heal. An attorney can handle everything in a legal claim and maximize the compensation you get.
An Effective Legal Team for Your Personal Injury Claim
Liable parties in truck accident claims rarely provide you with the true level of compensation you deserve for severe injuries or the death of family members. You deserve an experienced legal team. Contact the Law Offices of Carl D. Barnes today.