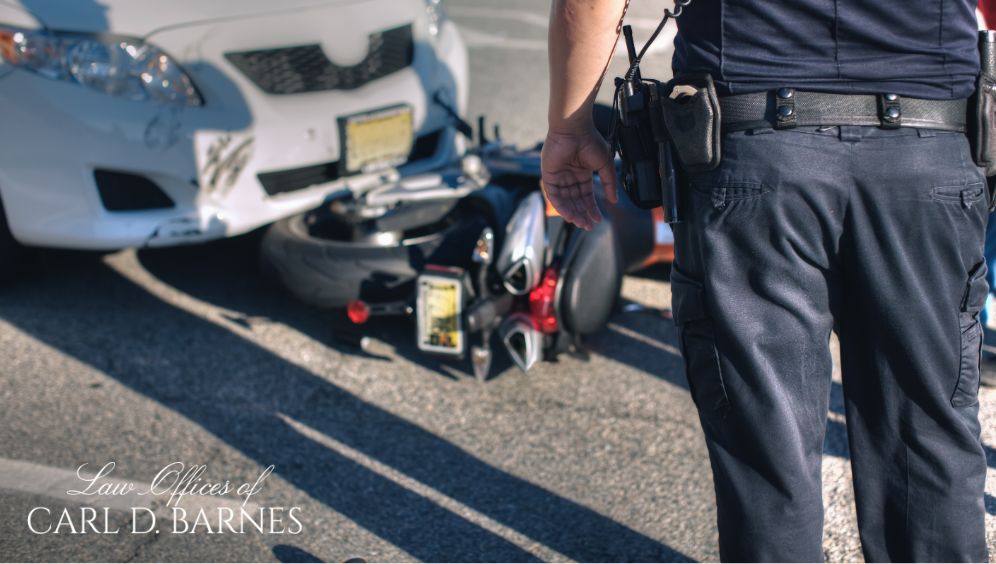 Glendale Motorcycle Accident Attorney
Many people in Glendale, CA enjoy riding motorcycles. Unfortunately, motorcycles come with unique dangers. When accidents happen between other vehicles and motorcycles, the impact is often substantially worse for the motorcyclist. The injuries following a motorcycle accident can be life-changing or even fatal.
If you or a loved one were involved in a motorcycle accident, you are likely facing significant medical costs, lost income, property damage, and other losses. Filing an insurance claim against the at-fault driver will not always cover the significant damages of a motorcycle accident. You may also need to file a personal injury claim, or even a wrongful death claim, on behalf of a deceased family member. You want to work with an attorney who has notable experience with claims like yours and can argue for your right to compensation.
Protecting Your Rights With a Glendale Motorcycle Accident Attorney
When you're injured in a motorcycle accident, or if a loved one was injured or killed in an accident, it can be a very hard time. Though monetary compensation won't fix injuries or make up for personal losses, it allows you and your family to remain financially stable until your recovery. You don't want to settle for less compensation than you deserve.
At the Law Offices of Carl D. Barnes, our attorneys have extensive experience aiding those in our community with complex legal claims. In order to get the most compensation from your motorcycle accident personal injury claim, you need an attorney who has the experience, ability, and compassion to fight for you. While you recover from your injuries, we gather evidence, file insurance and injury claims, and calculate the scope of your damages. We answer your questions and handle the legal side of things so that you don't have to, and we are unrelenting in proving who was at fault for your injuries.
How Is Liability Determined in a Glendale Motorcycle Accident Claim?
In a personal injury or insurance claim, you are filing against the at-fault driver and holding them financially and legally liable for damages. In order to prove fault, you have to prove that they acted negligently, recklessly, or that they intentionally caused the accident.
Negligence is a less serious accusation than recklessness. Acts of negligence are reliant on a breach of care through carelessness, while acts of recklessness are illegal or intentionally negligent actions. In order to prove negligence, you must prove the following elements:
Duty of Care: You must prove that the other party owed you a duty of care. Drivers on the road owe each other a duty of reasonable care, so it is not difficult to prove that commercial or passenger vehicle drivers owed a motorcyclist a duty of care.
Breach of Duty: You must prove that the party breached the duty of care. This means that they failed to provide reasonable care and took actions that a reasonable person would not. This may include illegal actions like running a stop light or driving under the influence. It may also include negligent actions like distracted driving.
Causation: You must prove that these actions that breached reasonable care were directly responsible for the accident and injuries.
Damages: You must prove that the accident and injuries caused you recognized harm in the form of property damages, economic losses, or noneconomic losses.
In order to prove negligence, each aspect must be proven.
How Does Comparative Negligence Impact Motorcycle Accidents?
California's comparative negligence laws can affect personal injury and wrongful death claims. Under these laws, an injured party can claim compensation for their damages even if they were partially responsible. Under California's pure comparative negligence laws, that fault can be up to 99%.
State law requires that motorcyclists and their passengers wear a helmet. If you are involved in an accident and are not wearing a helmet that fits within the law's parameters, you may be found to be partially responsible for your injuries. However, this will only apply to injuries the helmet would have prevented, such as brain or head trauma. You can still claim damages, but they will be reduced by your percentage fault.
State law also allows lane splitting, so the act of lane splitting will not deem you partially responsible for accidents or injuries. Lane splitting at high speeds or without paying close attention may make a motorcyclist partially responsible for the accident.
There is no exact formula when determining the percentage fault between two or more parties in an accident. You want an experienced negotiator on your side to mitigate or eliminate the percentage fault you are assigned in the accident. This, in part, will maximize the compensation you earn.
Damages Available in a Motorcycle Accident Claim
Once liability and percentage fault have been determined, you will want to know the extent of compensation you should receive. An attorney can help you calculate fair compensation for your past, present, and future damages. When filing a claim for injuries, many people underestimate what they deserve and end up with excess costs after they have already settled their claim. An attorney can accurately calculate your costs and help you fight for them. Types of damages you may be able to cover include:
Any past and future medical bills. Any medical costs directly associated with treating the injury from the accident may be covered. This includes healthcare facility transportation, surgeries, or medication. It also includes future costs for continued treatment or potential injury complications.
Costs related to disability. If the injuries from the accident caused temporary or permanent disability, associated costs may be compensable.
Lost income and lost earning capacity. The accident may prevent you from working for a short period of time or ever returning to the same job duties. Your damages should include lost income or lost potential income.
Any damage to property. This may include motorcycle repairs and replacements.
Pain and suffering damages. Though harder to calculate, these damages cover emotional damages, loss of quality of life, and physical pain caused by the accident.
Punitive damages. If the conduct of the at-fault party was especially negligent or reckless, the court may assign punitive damages to punish those actions.
The more severe your damages are, the greater compensation may be available to you. Though financial compensation will not heal injuries or solve damages, it allows you the stability and time you need to heal and move on with your life.
In a personal injury claim like a motorcycle accident, California has no cap on noneconomic damages like pain and suffering. An experienced attorney knows how to leverage this to maximize your compensation to a fair amount.
Common Injuries in Glendale Motorcycle Accidents
Vehicle accidents are particularly devastating for those driving motorcycles. Motorcyclists have fewer protections and are often thrown from their motorcycles, causing injuries at the initial impact and after falling. When a motorcycle and another vehicle crash, the vehicle and its passengers often suffer superficial damage, while a motorcyclist is likely to suffer catastrophic injury. Common injuries to motorcyclists include:
Traumatic brain injuries
Skull fractures
Whiplash and other neck injuries
Back and spinal cord injuries
Broken and fractured bones
Road rash
Nerve damage
Post-traumatic stress disorder
Burns, cuts, and lacerations
Internal organ injuries
Soft tissue issues
Scarring and disfigurement
Amputated limbs
Paralysis
Wrongful death
In any motor vehicle accident in California, an insurance claim is filed by injured parties against the at-fault driver. The claim is filed with their insurance provider, and this is how parties who suffered injuries or damages get compensation. Unfortunately, insurance claims often do not cover the immense damages in a motorcycle accident. Not only do insurance providers want to give as little compensation as possible, but there are limits to insurance payouts.
An attorney can negotiate with these insurance providers for appropriate compensation. They can also determine if a personal injury or wrongful death claim is necessary for the damages you or your loved one suffered in a motorcycle accident. Many victims of motorcycle accidents have to live with the consequences of their injuries for their entire life. This should be compensated as much as possible.
Can a Glendale Motorcycle Accident Attorney Help Me?
A Glendale motorcycle accident lawyer can greatly benefit your personal injury claim. They handle the complex legal aspects of a claim more effectively and efficiently. Your attorney can determine if you should file a personal injury claim, gather evidence, and negotiate your insurance claim and personal injury claim. Though this situation is likely new and overwhelming to you, a personal injury attorney has handled it before.
After a motorcycle accident, there's a good chance you have catastrophic injuries. You have to take the time immediately after your accident to heal, rest, and recover. Your claim also needs to be filed and taken care of soon after your accident. An attorney can take care of this and use their team's considerable resources to represent you and your interests, determine liability, and fight for the compensation you deserve.
Motorcycle Accidents and Wrongful Death Claims
Unfortunately, motorcyclists are much more likely to die in an accident than those in other vehicles. If you have lost a close family member in a motorcycle accident, you may be able to file a wrongful death claim. This type of claim is filed in place of a personal injury claim the deceased would have filed if they had survived their injuries. This can cover funeral and burial costs, the loss of income to your family, and a spouse's loss of consortium or a family's loss of support.
It can be hard to think about filing for a claim, but it allows you and your family some breathing room during this impossibly difficult time and ensures the loss of your loved one doesn't financially devastate you.
Glendale Motorcycle Accident Lawyer FAQs:
Q: How Much Are Most Motorcycle Accident Settlements?
A: The settlement depends on the unique situation of your motorcycle accident, the severity of your damages, and the skill and experience of your accident attorney. A settlement may cover damages such as medical bills, lost earnings, or pain and suffering. A more severe injury will result in a higher settlement. However, you also need an attorney who understands a personal injury claim to calculate your damages and negotiate for a fair and higher settlement.
Q: Should I Get a Lawyer for a Car Accident That Wasn't My Fault in California?
A: Even if you were not the at-fault driver, you may have to prove this. If it is not clear at the scene who was at fault, you have to be prepared for the other driver and their insurance provider to try to find how you may be at fault. Be careful what you say at the accident scene, as even apologies may be considered an admittance of fault. An attorney can represent you and determine fault in an accident.
Q: What Should I Do After a Motorcycle Accident in California?
A: After a motorcycle accident, these are the steps you should take:
Move someplace safe but near the scene.
Get emergency medical care and report the accident.
Determine if other parties in the accident are alright.
Exchange contact and insurance information with the other party.
Document the scene with photos and videos.
Get contact information from any eyewitnesses.
Go to the hospital and get copies of your medical records.
Contact a motorcycle accident attorney.
Q: What Is the Statute of Limitations for a Motorcycle Accident in California?
A: Motorcycle accidents, like most personal injury claims, have a statute of limitations of two years. The two years begin from the date of the accident or injury. If it was not immediately clear that someone was at fault for the accident, a one-year statute begins when the victim knew or should have known that someone was at fault. Wrongful death claims also have a statute of two years. If you don't file within this time, you lose your right to financial compensation. If you wait too long to file and to contact an attorney, significant evidence in your claim's favor may be lost. It's better to begin a claim sooner rather than later so your attorney has time to build your case.
Strong Defense for a Motorcycle Accident Claim
After the life-changing impact of a motorcycle accident, it is essential that you get the financial coverage you deserve and hold the responsible parties accountable. Contact the Law Offices of Carl D. Barnes today to see how our team can give you the support and compassion you need.