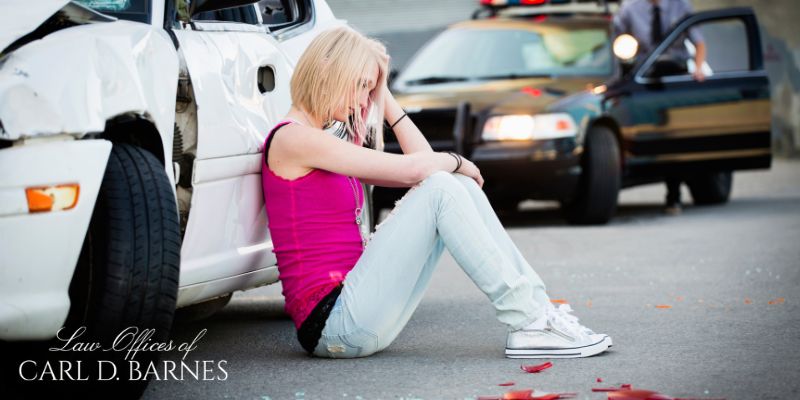 Alhambra Car Accident Attorney
When it comes to car accidents, there is typically heavy discussion surrounding immediate damages to the involved vehicles. However, what is often not talked about are the invisible damages that can impact Alhambra, CA victims for months and even years. A car accident lawyer at the Law Offices of Carl D. Barnes can help you bring your outstanding damages, such as lost wages, pain and suffering, and other high-impact issues to light to help you secure appropriate compensation.
Our team of experienced personal injury lawyers has years of experience and will work intimately with you to work out the details of your car accident case.
Car Accident Injuries Suffered in Alhambra
Unfortunately, car accidents are not a rare occurrence in the city of Alhambra. A few of the injuries that can occur as a result of vehicle collisions are:
Whiplash happens when your head is forcefully thrown around and results in a painful injury to the neck.
Back pain. Severe back pain can stem from the result of a car accident due to injuries a victim sustained. Rear-end collisions can lead to sprains and herniated discs.
Head Injuries. Injuries to the head, or skull, are essentially injuries to the brain as well. These serious injuries include frontal lobe damage, concussions, and traumatic brain injuries (TBIs).
Bone Fractures. Drivers typically break their collar bones, arms, wrists, ribs, or even legs in car accidents.
Internal Injuries. Internal injuries may go unnoticed directly after the collision, which is why it's important to see a medical professional as soon as possible after an accident. Organ damage and internal bleeding can lead to other long-term medical complications.
Deep bruises, sprains, or strains. Injuries such as bruises and strains are considered to be soft tissue injuries. These commonly occur in conjunction with other types of injuries.
Mental illness. The impact of a car accident can lead to emotional distress, such as post-traumatic stress disorder (PTSD), as well as anxiety and depression.
It is important to remember that even if you have no visible injuries or do not feel hurt, you should still go to see a clinician after a car accident, especially if you have existing underlying medical conditions or the impact was severe. Unchecked injuries can worsen with time if they go untreated. A car accident lawyer with experience can help you understand how to put a monetary value on the damages you have sustained and ultimately help you pursue justice in Alhambra.
Step-by-Step Insurance Claim Filing Process
Car accident victims often dread the infamous claims process because it takes a lot of time and energy and can seem like a labyrinth of confusion. It can even be argued that some insurance companies design their claims process this way to deter car crash victims from getting the money they deserve. However, the insurance claims process can be demystified. Here are the steps you will typically need to follow:
Be proactive about collecting evidence. As soon as you have reached safety after the collision, you should be working on the information-gathering process. Helpful evidence such as contact information of the other driver and witnesses, photographic and video content of the accident, notes on weather and road conditions, and receipts and bills for medical and property damage can bolster your case in the long run.
Call your insurance provider. Stay on top of calling your insurance agent or company after your health and safety have been looked to. Let them know that the accident occurred, provide them with the associated details, and they will initiate the claims process.
Send over all your evidence. Provide your insurance company with more detailed information about the accident and evidence you have collected, such as a police report, medical records and injury documentation, or repair estimates.
Keep in close contact with your insurance company. As the investigation for your car accident develops, your agent or other personnel from your insurance company may contact you and ask you to provide other specific documentation. Make sure you are checking your calls and emails often so that you can respond promptly.
Work on a settlement. After the investigation is finished, your insurance company will send over paperwork detailing the proposed settlement for your accident and associated justification. You will need to carefully go over the settlement offer and decide whether the amount is sufficient or if you want to argue for a higher payout.
Pursue litigation. If you are not happy with the settlement offered by your insurance company and negotiations are not successful, you can file a lawsuit. It's recommended to have a lawyer help you with what your next steps will be.
Get paid. Whether you negotiated directly with your insurance company or had a successful outcome in a lawsuit, you will eventually receive documents with details about the final payout. Be sure to review these carefully with a legal professional to make sure everything is correct.
While filing an insurance claim is complicated, it is not impossible. The process can be manageable if you follow the recommended steps carefully, communicate properly, and receive assistance from a lawyer.
How Alhambra Personal Injury Lawyers Can Help Me
An Alhambra lawyer who has experience in personal injuries resulting from car accidents can work with you to alleviate the post-accident situation. An Alhambra lawyer can help you by:
Providing legal advice. An Alhambra lawyer who is familiar with the local laws, court system, and settlement negotiations can assess your situation and provide you with sound legal advice to help you move forward confidently with your case.
Investigating your case. A personal injury lawyer can investigate details of your case with you by collecting relevant information and evidence, then talking with witnesses to build up a strong case on your behalf.
Negotiating with relevant parties. A successful personal injury lawyer will have excellent negotiation skills to work out a strong settlement for you with insurance companies or other key players.
Collecting documentation for insurance company settlements or court. A personal injury lawyer can get critical documentation such as medical bills and police reports together for you to help bolster your case argument.
Representing you in court. A car accident lawyer from Alhambra will feel comfortable in the court system that is familiar to them and will have an advantage arguing your case in court, helping you optimize your outcomes.
Providing emotional support. Having a loyal lawyer who acts as your advocate in settlement disputes and in the courtroom can help ease your mental lead. Sound guidance and clarity on the processes you are facing are critical to helping you manage your mental health during this difficult time.
Utilizing contingency fees. If you are worried about being able to afford a lawyer, the good news is that you do not need to pay legal fees upfront for most personal injury lawyers. Lawyers that work on contingency fees end up taking an agreed-upon percentage of your money won in court. If you don't win, you don't pay anything to the lawyer.
For individuals who have been in a car accident, an Alhambra personal injury attorney can be the light at the end of the tunnel of complex negotiations and litigation. Not only can they provide you with legal guidance and counsel, but they can also work to secure the most optimal deal possible for your case, giving you the control you need to focus on recovering mentally and physically.
FAQs About Alhambra, CA Car Accident Laws
How Much Is a Whiplash Claim Worth in California?
Unfortunately, there is no possible way to determine how much a California whiplash case is worth. This is because the severity of the injury can vary, resulting in different associated medical conditions, such as vertigo and migraines. In addition, the amount spent on medical treatment, the extent of lost wages, and the extent of insurance coverage can impact the final determined settlement.
How are Pain and Suffering Calculated in California?
Pain and suffering can be difficult to evaluate in California and are typically considered to be non-economic damages. Therefore, finding a corresponding financial amount of losses can be difficult. The purpose of pain and suffering damages is to get the victim financial compensation for damages sustained, such as PTSD, anxiety, depression, loss of a loved one, and more. An experienced lawyer can help sort out the complexity of evaluating an appropriate payout amount for pain and suffering.
How Much Can You Get for Pain and Suffering from a Car Accident in California?
Pain and suffering sustained after a car accident can be ambiguous to define, and the process of translating it into a monetary value can be even more complicated. A personal injury lawyer can help you define the amount of money you are entitled to based on income and wage losses due to past and anticipated missed workdays, associated mental distress and conditions, and whether the at-fault driver was particularly reckless or not.
Can Someone Sue You After Insurance Pays California?
Yes, someone could technically still sue you in court, even after your insurance company provides a settlement payout to the other driver(s) involved in your car accident. This is because the insurance payout may have only included immediate costs related to the accident, such as damage to the vehicle or emergency medical bills. For this reason, you should ask your lawyer about the possibility of working out an initial settlement with your insurance company and the other drive to include a release of liability.
Get The Compensation You Need to Move Forward
The legal team at the Law Offices of Carl D. Barnes is here to fight for you and make sure that you receive the appropriate post-accident compensation to move on with your life. Reach out to the Law Offices of Carl D. Barnes today to schedule a consultation and learn more about how we can help you.