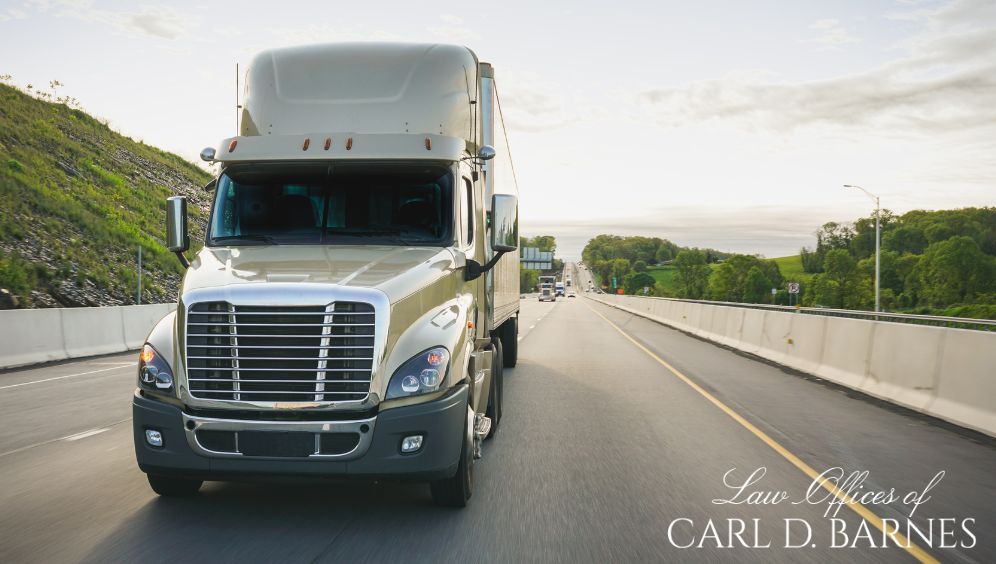 Merced Truck Accident Attorney
No one ever thinks they are going to get into an accident with a semi-truck. If you've ended up there, though, the question is what to do next. For most people, that answer comes down to attempting to rebuild what they can of their lives, with the more serious injuries making that especially difficult. Filing a claim against those responsible, though, can help with that process in Merced, CA. A trucking accident causes a financial hit and so much more. You can, though, be compensated for some of that loss. At the Law Offices of Carl D. Barnes, a Merced truck accident lawyer can help people do just that. We are ready to help you pursue what you're owed.
What to Do When You've Been in an Accident
You probably won't lose a claim in the moments after an accident. You might, though, win a case with how you handle those moments. You don't plan to get in an accident with a truck, but it's still a good idea to have a rough idea of what to do if you do find yourself in that situation. 
Get Emergency Help – Any serious injuries are going to require medical help as quickly as possible, so don't delay in calling for their help. This will also bring the police to the scene, and they will conduct an investigation into what happened. It's important that you tell your understanding of the accident as clearly and precisely as you can recall it.
Pull Out Your Camera – If you are incapacitated and unable to take photos and videos yourself but are able to ask someone else to take them, that would work as well. Whoever takes the photos and video, though, should be careful to make sure they get photos of all the vehicles, damage, injuries, street signs, and anything relevant to the accident. They will also want to make sure they get one good overview shot of the accident, even including skid marks if there are any.
Get Contacts – Don't rely on the police report for contact information if at all possible. Try to get full names, phone numbers, and email addresses of not just the other drivers in the accident but also any witnesses that might have seen what happened.
Less Said Is Better – Other than with the police, try to keep your discussion about the accident to a minimum until you've spoken with your lawyer. You'll want to be careful even talking with your insurance company. It's not unheard of for them to try and get you to talk about the accident in a way that accepts some blame. Your lawyer can help advise with what detail to discuss the accident.
See A Doctor – The paramedics may have looked at your situation and given you a clean bill, but it's still important to get a full medical examination to see if there's anything that they may have missed, as their focus was on looking for anything traumatic.
Find Your Legal Team – If you don't have a lawyer already, give us a call. We have plenty of experience with truck accidents and can help advise you on what to do next.
Have the Damage to Your Vehicle Assessed – For any future claim filing or negotiations with insurance companies, it's good to have an understanding of what kind of damage you sustained.
What Causes Truck Accidents
Given that a truck is an extra-large motor vehicle, accidents can often be caused by the same issues that would lead to an accident in any other motor vehicle. Things like speeding, reckless driving, and intoxicated driving are all things that may lead to a truck accident, the same as in a car. However, because trucks are unique vehicles and because they are used in commercial operations, there is a whole other set of potential causes for an accident. For instance, there could be an issue with drivers being on the road more than they are legally allowed, or a company could have unreasonable expectations for delivery times, causing the drivers to take greater risks in order to deliver on time. With our experience, we can help assess the cause of the accident in your case.
Where Liability Lies
Like any other commercial operation, the trucking industry relies on a series of different partnerships to get things done. Unfortunately, that means there's a wide variety of people who come into physical contact with a truck and, therefore, could have played some part in the accident. Some of the potentially liable parties include:
The Driver
The Trucking Company
The Shipper
The Owner of the Cargo
The Owner of the Truck
The Truck Manufacturer
An experienced lawyer can play a vital role in your claim by using their experience to pick apart an accident and really get down to the cause. Once you've found the cause, you found a strong candidate for the liable party.
What Damages Could Be
The damage breakdown in the case of a trucking accident is the same as in any other personal injury case. There are three different kinds of damages, but whether or not one, two, or all three are awarded is up to a judge. Also, while the plaintiff may submit an amount of damages they would like to be considered, the judge will ultimately decide how much is awarded. The damages are broken into three categories:
Economic damages already have monetary values and can be quantified. This could be the medical bills related to the accident, income loss both now and in the future because of the accident, or property damages, like the vehicle in the accident.
Non-economic damages are things that are still a consequence of the injury but aren't quantifiable in the way that the economic damages are. For these damages, a judge must make an informed decision about what is a fair award. Non-economic damages include things like emotional distress, loss of enjoyment in life, and pain and suffering.
Punitive damages are the result of the judge's assessment of the defendant. If the judge believes that the negligence causing the accident was egregious, he may choose an award that is meant to punish the defendant. It should encourage the defendant to be more careful in avoiding negligence while also discouraging others from making the same mistakes.
FAQs About Merced, CA Truck Accident Law
Who Is Liable in Trucking Accidents in Merced, CA?
One of the more difficult aspects of putting together a claim related to a trucking accident is narrowing down who is liable for the accident. The driver could have done something wrong, but that's not always the case. The trucking company might have set the stage for the driver taking risky chances in order to meet a deadline. There are still so many other possibilities: the shipper, the freight owner, and the truck manufacturer, just to name a few. An experienced lawyer can help narrow down what happened in your case.
How Quickly Do I Need to File a Truck Accident Claim?
You will need to see that your case is filed within two years of the accident. That's because the claim is going to fall under the personal injury law, which has a statute of limitations of two years. You may, though, discover an injury later that still is from the accident. If this is the case, you may file the claim within one year of discovery of the injury.
How Can a Lawyer Help My Case?
A lawyer can make all the difference in a trucking accident claim. One distinct advantage a lawyer has is experience. Particularly in a case as complex as a trucking accident, the experience a lawyer has will help them understand what to look for while investigating the case. A lawyer can help negate an advantage the defendant has. The defendant in your case will have a lawyer fighting hard to keep every dollar. You're at a disadvantage without a lawyer every bit as skilled and experienced fighting to make sure you get every dollar you are owed.
What Can I Do If My Spouse Was Killed in A Truck Accident?
In the case of the death of a spouse from a truck accident, you may want to consider a wrongful death claim. This could help you with damages that cover funeral and burial costs. The damages could also cover financial losses associated with the income your spouse could have earned if not for the accident. The damages can even address some of the less tangible losses, like the vacuum of care, support, nurturing, and guidance that is left.
Don't Let Them Take Anything More
When you've had to deal with a truck accident, there are so many costs associated with it, especially if there was a serious injury. There's also the time, pain, stress, and suffering that destroys peace of mind, which is something you can't ever restore. All these things get taken from you in a truck accident. The law, though, as a result of the accident, also says you are entitled to something. You are owed damages for the situation. However, if you don't fight for them, they're going to take some or all of that from you as well. Don't let them do that. Don't go it alone, either. Let us be the team that fights with you — contact us today.