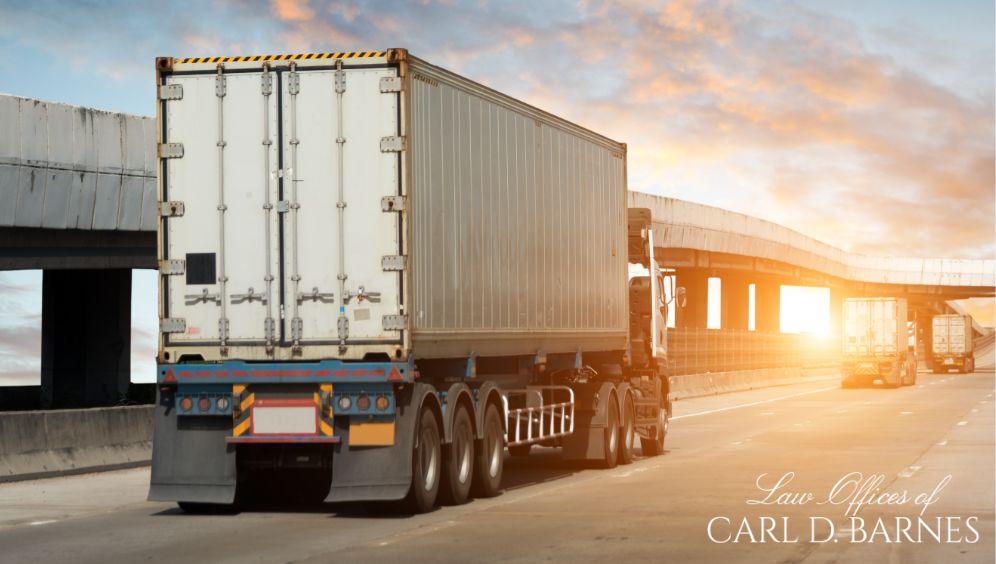 Visalia Truck Accident Attorney
Commercial trucks are essential to California's economy, and Visalia drivers commonly see these large vehicles throughout the area every day. Truck accidents can happen for the same reasons that all other vehicle accidents happen, but they often cause more severe damages. If you or a loved one recently suffered injuries in a commercial truck accident that someone else caused, it is vital to know your rights when it comes to the compensation you can claim for your damages. The right attorney is an invaluable asset for navigating the complex civil claim proceedings ahead of you in this situation.
Helping Truck Accident Victims Recover in Visalia, CA
The Law Offices of Carl D. Barnes can provide compassionate and responsive legal representation to a truck accident victim in Visalia. Throughout the many years of our firm's operation, we have helped our clients resolve all types of civil claims, including those arising from truck accidents. The sooner you reach out to our firm, the more time we have to build the strongest case possible for you.
Building Your Truck Accident Claim in Visalia
Success with any vehicle accident claim requires proving fault for the accident and identifying the party or parties responsible for the damages. California's fault rule states that whoever causes an accident assumes responsibility for the resulting damages. However, the process of proving fault and assessing the extent of claimable losses can be more challenging than the average person initially expects.
Your Visalia truck accident attorney can help gather the evidence needed to firmly prove fault for your damages, such as traffic camera footage, eyewitness statements, and drivers' cell phone records. Once fault is proven, the victim can proceed with claiming compensation for the losses they suffered. This process usually begins with an insurance claim, and your Visalia truck accident attorney can help file your claim and resolve any disputes the insurance company might raise.
Once you obtain as much compensation as you can through insurance, the next phase of your case is to file a personal injury suit naming the driver responsible for the damages. Auto insurance can only cover so much, and truck accidents tend to be far more damaging than a standard passenger vehicle accident. State law allows the plaintiff to seek compensation for their medical expenses, property damage, lost income, and any other economic losses that insurance won't cover. They can also seek compensation for their pain and suffering, and state law does not limit this aspect of a plaintiff's case award in a truck accident claim. The Law Offices of Carl D. Barnes can work with you to maximize your settlement and streamline the process of securing the compensation you legally deserve.
FAQs
Q: How Much Can I Claim for a Truck Accident in Visalia?
A: The plaintiff in a personal injury case can seek full compensation for any economic losses they sustained because of a defendant's actions; they may also seek compensation for the pain and suffering they experienced. Your Visalia truck accident attorney can help calculate the extent of immediate and future economic losses you can include in your claim, and they can help calculate the maximum amount of pain and suffering compensation you can seek from the defendant. The total value of your claim can fluctuate based on several factors, and your attorney is the most effective asset you have for enhancing your recovery as much as possible.
Q: How Long Does It Take to Settle a Truck Accident Claim?
A: The time your case could require to reach a conclusion depends largely on whether the defendant accepts liability for the accident and agrees to settlement negotiations. Settlement is a private process that allows the parties involved in a civil case to reach a mutually agreeable conclusion in a fraction of the time that litigation usually requires. An experienced Visalia truck accident attorney can potentially help resolve your claim in a matter of weeks through settlement, but if you must take the case to court, this will take much longer.
Q: What Happens if I Bear Partial Fault for My Accident in Visalia?
A: The state enforces a pure comparative fault rule that applies to any civil claim in which multiple parties share liability for the damages. If a plaintiff is partly liable for their damages, they lose a percentage of their case award equal to their percentage of fault. For example, if a plaintiff in a civil suit bears 10% fault for the damages, they lose 10% of the award recovered from the defendant. Your Visalia truck accident attorney can explain how any shared fault you hold is likely to influence your final case award.
Q: Will I Win More Compensation if I Hire a Visalia Truck Accident Attorney?
A: Hiring legal counsel you trust is the optimal way to increase your total recovery as much as state law allows. The right attorney can not only accurately calculate your immediately noticeable damages like property losses and medical expenses but also help assess the full long-term extent of economic damages the defendant caused. For example, you may not only be entitled to claim compensation for your lost wages but also your lost future earning capacity if the defendant has left you permanently disabled by your injury.
Q: How Much Does It Cost to Hire a Visalia Truck Accident Attorney?
A: The average personal injury plaintiff is likely to worry about the potential cost of hiring legal counsel, but this is no cause for concern if you choose the Law Offices of Carl D. Barnes to represent your case. We take personal injury cases on contingency, meaning we only charge a fee after we win our client's case, and our fee is a percentage of the total amount recovered from the defendant. There is no fee if we are unable to obtain a case award for you, so there is no financial risk to choosing our firm to represent your truck accident case.
The right attorney is an invaluable asset for any vehicle accident claim. When you choose the Law Offices of Carl D. Barnes to represent you, you will have a legal advocate ready to provide guidance and support through every stage of your claim. You have a limited time in which to pursue compensation for your losses, so contact us today and schedule a free consultation with an experienced Visalia truck accident attorney.