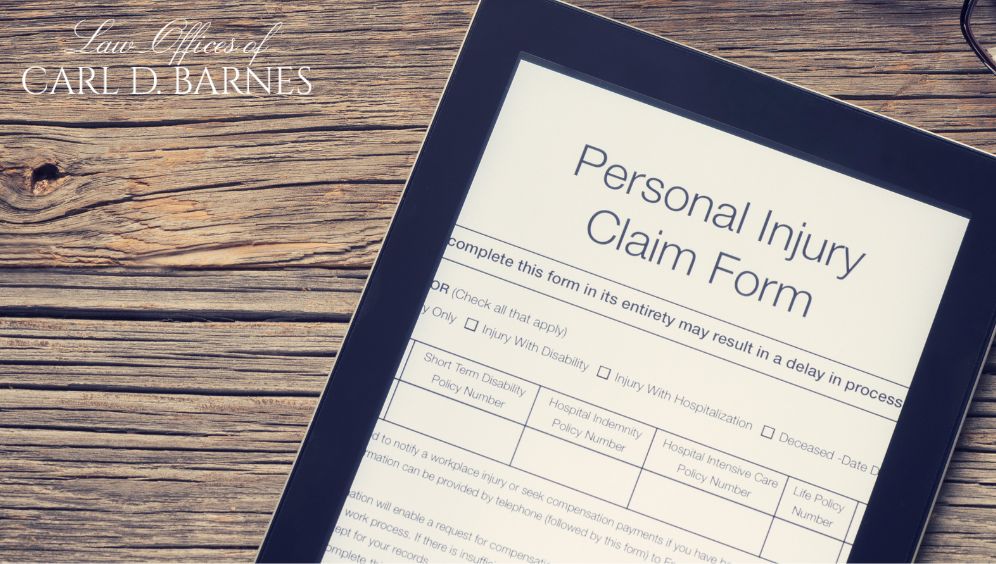 Visalia Personal Injury Attorney
The term "personal injury" defines any situation in which one party inflicts harm on another party, either through an act of negligence or intentional misconduct of any kind. Personal injuries can happen in many ways, sometimes with devastating effects that negatively impact victims for years or for the rest of their lives. If another party is responsible for inflicting a personal injury on you or a loved one in Visalia, it is vital to know your options for legal recourse and the value of having legal counsel you trust on your side.
Representing Personal Injury Claims in Visalia, CA
The attorneys at the Law Offices of Carl D. Barnes have successfully helped many past clients recover from all types of personal injuries, from vehicle accidents and slip and fall incidents to injuries caused by illegal misconduct. If another party in Visalia is responsible for harming you in any way, our team can help you gather the evidence you need to firmly establish liability for your damages and hold the appropriate parties accountable.
Why You Need a Visalia Personal Injury Attorney
It is technically possible for a plaintiff to file a personal injury claim on their own, but they would face several risks in attempting this. State law does not strictly require you to hire legal counsel for your impending personal injury case, but the right attorney on your side can make every aspect of your case easier to manage and more likely to yield the results you hope to see.
Your attorney can build your case and manage all your procedural requirements with the court while you focus on your recovery. They can uncover all the various forms of compensation you can seek from the defendant who injured you, potentially revealing avenues of recovery that you did not realize were available to you. The right attorney is invaluable not only for winning your case but also for maximizing the final case award you obtain from the defendant.
Any personal injury case has the potential to escalate into a highly complex legal battle between the plaintiff and the defendant, and having an experienced attorney on your side ensures that you are prepared to meet any challenges you encounter with confidence. The attorneys at the Law Offices of Carl D. Barnes can work closely with you through every stage of your case, and our goal for every client is maximum recovery in the shortest time possible.
Proving Liability for Your Personal Injury in Visalia
Proving fault is a critical first step in any personal injury case. You must identify the party or parties you believe to be responsible for causing your injury and then prove how they caused it. Personal injury claims can arise from many different situations, including:
Motor vehicle accidents. Car, truck, and motorcycle accidents are top-reported causes of personal injuries throughout the state each year. Your Visalia personal injury attorney can be invaluable for not only helping you gather the evidence needed to prove fault for your accident but also for guiding you through the insurance claim filing process and building a cohesive personal injury case against the at-fault driver. Traffic camera recordings, eyewitness statements, driver cell phone records, and vehicle computer data are often essential pieces of evidence in personal injury cases pertaining to vehicle accidents.
Slip and fall accidents. A slip and fall may be more severe than it might sound, and if you suffered this type of injury on someone else's property, you could have grounds for a civil claim against the property owner. In order to succeed with a premises liability claim, the plaintiff must prove that the property owner failed to maintain reasonably safe premises and consequently caused the plaintiff's injury.
Dog attack claims. Most people are fortunate to only have positive interactions with the dogs they meet, but dogs are easily capable of inflicting tremendous injuries unexpectedly. California enforces strict liability for dog owners whose pets injure other people, regardless of whether the dog has a known history of aggression. As long as you were legally present wherever the attack occurred and did not abuse or provoke the dog in any way, strict liability applies, and the dog owner is liable for the damages.
Catastrophic injury claims. While most victims of personal injuries are able to eventually recover from their experiences, some are not so fortunate and experience tremendous long-term or permanent harm. A catastrophic injury is any personal injury that results in permanent disability, permanent disfigurement, or diminishes the victim's quality of life in any way. These cases often involve tremendous damages, and it is vital for the victim of a catastrophic injury to have legal counsel they can trust to help them recover as fully as the law allows.
Success with your personal injury claim will require accurate identification of the defendant or defendants responsible for the damages and clear proof that they are directly responsible for causing those damages. Once your Visalia personal injury attorney has assisted you with proving fault, you can proceed with claiming compensation for the damages the defendant caused.
Claimable Damages in a Visalia Personal Injury Case
The average person may be surprised to learn how much compensation they could potentially recover from a successful personal injury case once they have an experienced Visalia personal injury attorney advising them. California's personal injury laws allow a plaintiff to seek full compensation for all economic damages they suffered because of the defendant's actions. While the average plaintiff may be able to account for immediately noticeable economic losses, they may struggle when it comes to assessment of the full long-term financial impact of their experience.
The economic damages you could potentially recover from a successful personal injury suit in Visalia include:
Property damage. If the defendant damaged your vehicle, your home, or you lost any other personal property in the incident, you can seek compensation for any associated repair or replacement costs.
Medical expenses. When a personal injury case pertains to physical injury, the defendant becomes liable for both immediate and future medical treatment costs the plaintiff incurs because of the defendant's actions. Hospital bills, ambulance fees, prescription medication costs, surgical costs, and any long-term rehabilitative treatment costs are all claimable economic damages for the plaintiff.
Lost wages. When you cannot work due to the personal injury you suffered, the defendant who caused the injury is liable for the income you cannot earn during your recovery period. This applies to vacation time or other paid time off you had to use in the aftermath of your injury.
Lost earning power. Unfortunately, personal injuries often cause permanent harm, and some plaintiffs lose the ability to earn income due to their injuries. If this applies to your case, you can seek compensation for the future income you are no longer able to earn. Your Visalia personal injury attorney can help accurately calculate how much income you would have been able to earn in the future if the defendant had not injured you.
Once you calculate the extent of immediate and long-term economic damages available in your claim, you may discover that your case is worth much more than you originally anticipated. However, you also can seek compensation for your non-economic damages.
The state's personal injury laws allow a personal injury plaintiff to claim pain and suffering compensation from the defendant who injured them. There is no limit to how much the plaintiff can claim for most types of personal injury cases, but the amount sought should reasonably reflect the overall severity of the plaintiff's experience and the extent of long-term harm they face. Your Visalia personal injury attorney might seek pain and suffering compensation that reflects how long it will take you to recover or they might aim for a large lump sum if you have been permanently disabled by your injury.
The Law Offices of Carl D. Barnes can help you maximize your recovery from a personal injury case, and we can do so in the most streamlined manner possible. We generally seek to settle our clients' cases outside of court to shorten the time it takes for them to receive compensation for their damages, but we are prepared to take your case into litigation if necessary.
FAQs
Q: What Is the Statute of Limitations for a Personal Injury Claim?
A: A statute of limitations is a time limit for filing a case with the court. In California, the time limit for personal injury cases is two years from the date an injury occurred. Failure to submit your complaint to the court within this time limit could mean losing your chance to recover your damages. While two years may seem like enough time, the reality is that it can take quite a long time to gather the materials and evidence needed to compile a strong civil suit, so it is generally ideal to start the claim filing process as soon as possible after a personal injury.
Q: Do I Need to Hire a Visalia Personal Injury Attorney to File My Claim?
A: You are not formally required to hire a personal injury attorney to represent your claim, but hiring an attorney you trust can make handling your claim much easier, and you will be more likely to achieve positive results with their help. Your Visalia personal injury attorney can handle your legal affairs so you can concentrate on your personal obligations and recovery, and they are likely to uncover channels of recovery that you would have likely overlooked on your own.
Q: How Much Compensation Can I Seek in a Personal Injury Suit?
A: The goal of your personal injury claim is to hold the defendant accountable for the full extent of the damages they caused. You have the right to claim full repayment for all direct financial losses you suffered because of their actions, which may include medical treatment costs, property damages, lost income, and lost future earning potential. State law also allows you to seek pain and suffering compensation, and there is no limit on pain and suffering compensation in most personal injury cases. Your Visalia personal injury attorney can offer an estimate of your claim's total potential value.
Q: What Happens if a Plaintiff Shares Fault With a Defendant?
A: California enforces a pure comparative negligence rule that applies to any personal injury case in which multiple parties bear fault for the damages. It is possible for a plaintiff to share fault and still recover compensation, but their fault will diminish their final case award. The judge overseeing this type of case will assign the plaintiff a fault percentage to reflect their level of liability, and this percentage is then deducted from their final case award as a penalty. For example, a plaintiff bearing 10% fault in a $200,000 claim would lose $20,000 of their case award.
Q: How Much Does It Cost to Hire a Visalia Personal Injury Attorney?
A: It's a common misconception that the average person would not be able to afford hiring legal counsel after suffering a personal injury, and some believe that the cost of legal representation would overtake any compensation they could foreseeably obtain. When you choose the Law Offices of Carl D. Barnes to represent your case, there are no attorneys' fees until we win your case. Our team will take a percentage of the total compensation recovered from the defendant as our fee, but if we are unable to secure a case award for you, you will pay nothing.
The appropriate attorney is invaluable when you are struggling with the effects of another party's negligence or illegal misconduct in the Visalia area. The Law Offices of Carl D. Barnes can provide comprehensive and detail-oriented personal injury counsel for the most challenging cases, and we can represent your case under a contingency agreement, so there is no fee unless we win. You have a limited time in which to pursue your recovery, so contact us today to make your appointment for your free consultation with a Visalia personal injury attorney and learn what our team can do for you.