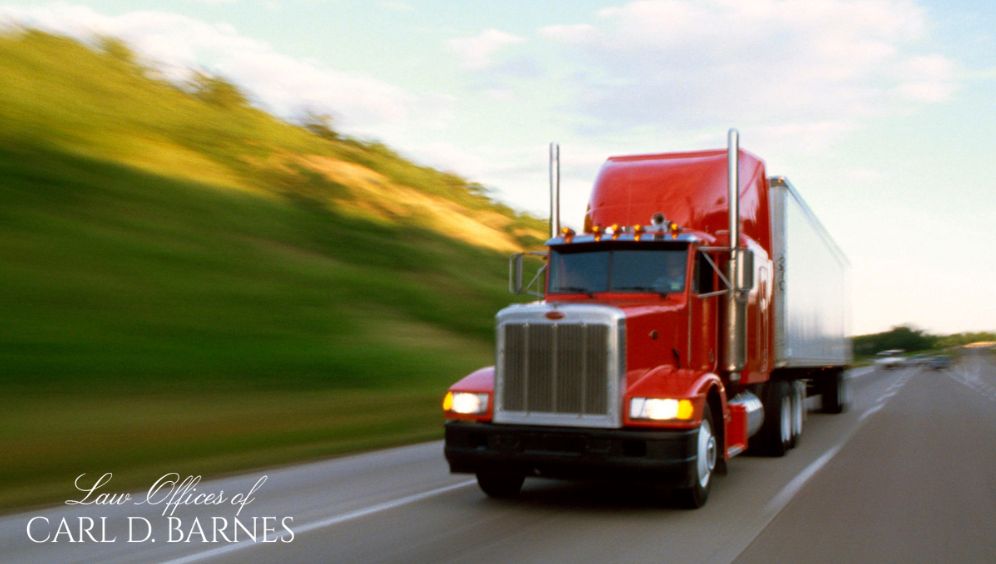 Fresno Truck Accident Attorney
A truck accident in Fresno, CA can be a terrifying thing. The injuries that occur in a truck accident can often be devastating and sometimes fatal. The victims in these events deserve to be compensated for everything they have needlessly suffered. However, those with a duty to pay restitution don't want to pay as much as they should. To get a fair shot at what you are owed as the victim of a truck accident, you'll need a Fresno truck accident lawyer who is both a strong negotiator and can make a strong case in a trial. At the Law Offices of Carl D. Barnes, we have both the experience and skill to handle all facets of truck accident claims.
What to Do After a Truck Accident
If you find yourself in a truck accident, assuming you aren't injured too badly, you may find yourself in a state of shock. It can be hard to recognize everything that's going on and how you should handle it. Unfortunately, what happens immediately after an accident can be important for any later claim you have. Understanding ahead of time what to do in case of a truck accident may help you function a little better in the haze of the moment.
Call Emergency Services – If you've been in a truck accident, there are likely injuries, so getting paramedics to the scene quickly is important. Remember to get whatever treatment you need as quickly as possible. Getting the police there is also important as well because they will document the situation.
Document the Scene – If you are able, or if someone else you trust is able, make sure to get photos and videos of the scene. Some important things to document are the full scene, including any skid marks, all vehicles and damage, any injuries, and any traffic signs or other elements of the setting that might have played a role. These images and videos can be very helpful in making your case as they aren't subject to potentially faulty witness memories.
Contact Information – You will want to get a collection of information from everyone involved in the accident and from any witnesses that may have seen the accident as well. From the witnesses, be sure to get their full names, phone numbers, and email addresses, as it will make them easier to track down if you need to take further legal action. From anyone else involved in the accident, you will want to get their:

Full Names
Phone Numbers
Physical Addresses
Insurance Information
Email Addresses
License Numbers
Vehicle Registration
Company the Truck Driver Works for

Be Careful – When you speak with the police, make sure you factually describe how the accident occurred as you understand it. However, you will want to be careful about discussing the accident with anyone else before you have had a chance to talk to your lawyer. In particular, it would be wise to avoid discussing details of the accident with the other drivers involved or witnesses. Be very cautious when speaking with your insurance company as well. They may try to get you to phrase things in a way that sounds like an admission of fault and later use that against you to avoid paying the entirety of what you deserve.
Get a Medical Assessment – Even if you were examined at the scene of the accident, it could be valuable to go for a full medical evaluation. Paramedics are trained to look for traumatic injuries that need immediate attention. You may have injuries that are less dire and could have been missed. Don't delay in getting this done, either. The longer you wait, the more likely any defendants in any potential case might try to argue that you were injured in the intervening time from something other than the accident.
Get Legal Help – Get ahold of a Fresno truck accident lawyer and law firm quickly. Here at the Law Offices of Carl D. Barnes, we would be able to take a look at your situation, give you an idea of what steps to take next, and help you with the details of your situation.
Vehicle Appraisal – You will want to get an assessment of the damage to your vehicle. The insurance companies involved may want you to have their appraiser take a look at it, but it may also be worthwhile to have a second opinion in case there is anything their appraisers are failing to account for in their assessment.
Reasons for Truck Accidents
Truck accidents can occur for a number of different reasons. They carry all the risk for accidents that regular vehicles have, in addition to several more that are unique to their size and commercial use. Some typical reasons for truck accidents include: 
Driver Error – A driver can make a simple mistake like anyone else operating a motor vehicle, although the consequences are usually more severe.
Distracted Driving – A driver could be distracted by their phone or some other activity and make a driving error as a result.
Intoxication – Obviously, a truck driver should never consume any alcohol or drugs before or while on the job. Unfortunately, it does happen and has been the cause of accidents.
Blind Spots – In a long vehicle like a truck, the blind spots can sometimes be difficult to see.
Driver Fatigue – There are regulations regarding how many hours a truck driver can spend on the road without rest, but that doesn't mean they always are followed. And if a driver fails to rest well when they are off the road, they still may be tired when driving.
Speeding – A truck can be a lot harder to stop when traveling at higher speeds.
Unrealistic Schedules – If the driver's company expects them to deliver too quickly, then drivers may make unsafe choices.
Improper Cargo Loading – The cargo in a truck needs to be properly distributed to avoid the risk of imbalance and tipping.
Insurance May Not Be Enough
We would like to believe that if we were injured in a trucking accident, between the insurance policy of the other driver and ourselves, we would be compensated enough. Sadly, this isn't usually the case. In part, that's because insurance might not cover every aspect related to our injury. In large part, though, it's important to remember that insurance is a business, and every dollar they pay out is one less dollar of profit. Therefore, they have a strong incentive to try to keep their payout to a minimum. We help make sure you can fight to get everything you deserve.
Who Is Liable?
Commercial activities tend to have a lot of different hands involved in their process. Trucking is not different. The real cause of a trucking accident could be one of several different things, and it may be the responsibility of any one of the several parties involved in a trucking operation. As truck accident attorneys, one of the things we help with is investigating the nature of the accident and figuring out which party is liable for the accident. Some of the possible defendants in a claim include:
The Driver – If something like driver error, intoxication, or some other negligence or wrongdoing on the part of the driver is at fault, the driver will likely be a defendant.
Other Drivers – It's possible that you being hit by a truck could be the result of the truck driver trying to evade another driver who was doing something unexpected on the road. If this is the case, it's possible both another driver and the truck driver may be named in the claim.
Truck Manufacturer – It could be that a faulty part is to blame for the accident. If that's the case, then you may need to file a claim against the manufacturer of the part.
The Trucking Company – If the trucking company had unreasonable expectations of their drivers, the kind that may encourage unsafe behaviors on the part of the driver, then it is possible that the trucking company may be at fault. Similarly, the trucking company must adhere to state and federal law. A violation of the law could also make them liable for the accident.
The Shipper – Trucking companies are often not the party that actually loads and secures cargo on a truck. So if there was an issue with how the truck was loaded or if the cargo wasn't properly secured, then the shipper may be the liable party.
The Owner of the Freight – It could be that there was an issue with the freight itself that was unsafe. In these cases, it would be the freight owner who is to blame.
Damage Claims
In the case of a trucking accident, the claim is a personal injury claim and is paid out in that format. There are two kinds of compensatory damages that you might receive. The first is economic damages. They include things for which a financial value can be assessed. They are meant to cover both the costs that are derived from the accident itself, as well as the costs that the plaintiff will have to endure in the future as a result of the accident. To ensure that you receive fair compensation for these things, it can be helpful to keep a good record of costs and expenditures related to the accident. Economic damages may include things like:
Medical Bills – The injuries sustained from your accident could be costly. These damages can cover the bills for treatment, medication, and rehabilitation. Everything needed from a medical perspective is necessary to return you as close to whole as possible.
Lost Wages – In all likelihood, you will have to miss work time as a result of your injury. Some of the economic damages could cover those lost wages from the time you were out of work.
Lost Earning Capacity – Your injuries may be severe enough that you will not be able to earn the same wages in the future. The damages awarded may take that into account and cover some further earnings.
Vehicle Repairs – The cost of repairs to your vehicle, if possible, or a replacement, if necessary, could be a part of the damages awarded.
The second kind of compensatory damages you might receive is non-economic damages. These are meant to address things that you can't easily assess the value of since they aren't the kinds of things one could buy or sell. They include:
Pain and Suffering – It's hard to put a number on the kind of pain a particular injury may cause, but it is one of the things damages attempt to address.
Emotional Distress – If it can be shown that the accident has led you to experience some level of anxiety or depression, you may be entitled to some damages to cover that.
Loss of Enjoyment in Life – This is similar to emotional distress in that if you can prove the negative impact the accident has had on your mental state, you may receive damages related to that.
The third kind of damages that may be awarded is punitive damages. These are meant to serve as a kind of punishment and deterrent for certain behavior. Depending on the exact nature of the cause of your accident, it's possible that these may be awarded as well. For instance, if the court saw the fault of an accident to be a trucking company's unreasonable demands of its drivers, then the court may issue punitive damages to encourage them to correct their behavior and to discourage others from making the same demands of their drivers.
Wrongful Death
If a truck accident took the life of a spouse, child, or other family member, then you may be able to file a wrongful death claim. This option would cover many of the same concerns and damages that come along with a personal injury case. In the case of a wrongful death claim, you may be entitled to damages covering:
Funeral expenses and burial costs
The financial support or income that the deceased would likely have earned had they survived
Compensation for the whole of support, guidance, and nurturing that is now left as a result of the death
Under California law, those with the following connections to the deceased may file a wrongful death claim:
Spouse or domestic partner
Children
Grandchildren (if children deceased)
Anyone entitled to the deceased's property under California law
After a loved one dies, it can be difficult and even feel crass to think of something like filing a claim for damages. It can be difficult to have that overlap with the grieving process. However, it is the only way to ensure that you are compensated for your loss and that the negligent parties are held accountable. If you have lost a loved one and are unsure about how to move forward or whether you want to, please give us a call. We've handled these cases before and understand the sensitivity that is needed in these times.
FAQs About Fresno, CA Truck Accident Law
Can You Sue for a Truck Accident in California?
If you, a spouse, or a child have been injured by a truck accident in California, you can file a claim against a number of parties depending on who's at fault. A truck accident lawyer can help you understand who may be liable in your particular case.
Do I Need a Lawyer for a Commercial Truck Accident in California?
In theory, you could attempt to file the claim and work through the legal process yourself. That, though, would likely put you at a real disadvantage. The defendant in your claim is almost certainly going to have a lawyer on their side. And given the nuances and technicalities related to both the legal process and a truck accident, there is a lot of benefit to having a legal team with solid experience in those areas. That's what you'll find at the Law Offices of Carl D. Barnes.
How Long Do You Have to Settle a Trucking Accident in California?
Personal injury claims, which cover something like a truck accident, must be filed within two years from when the injury occurred. The one exception to this would be if the injury were discovered after the two years have passed, you have one year to file the claim.
Who Is Liable in a Truck Accident Case?
Commercial trucking has a lot of different parties involved with the process. That means that who is at fault cannot always be clearly identified. There are several points during the process of packing and loading a truck, keeping the truck running, and transporting material with the truck where an error might lead to an eventual accident with the truck. Some of the potentially liable parties include:
The driver
The driver's employer
The owner of the vehicle
The owner of the freight
The shipper
The manufacturer of the truck and/or truck parts
A third-party repair company
A Serious Situation Deserves a Strong Legal Team
There's rarely a truck accident that doesn't result in serious injuries. Devastating physical injuries and even wrongful death are not common outcomes. With serious injuries comes the potential for significant damages that the victims in these situations deserve. However, those responsible in these situations typically don't want to pay out the compensation that they should. That's why the injured need to make sure they have a skilled, experienced legal team behind them, like the one at the Law Offices of Carl D. Barnes. Contact us today if you need help holding someone liable for a truck accident.