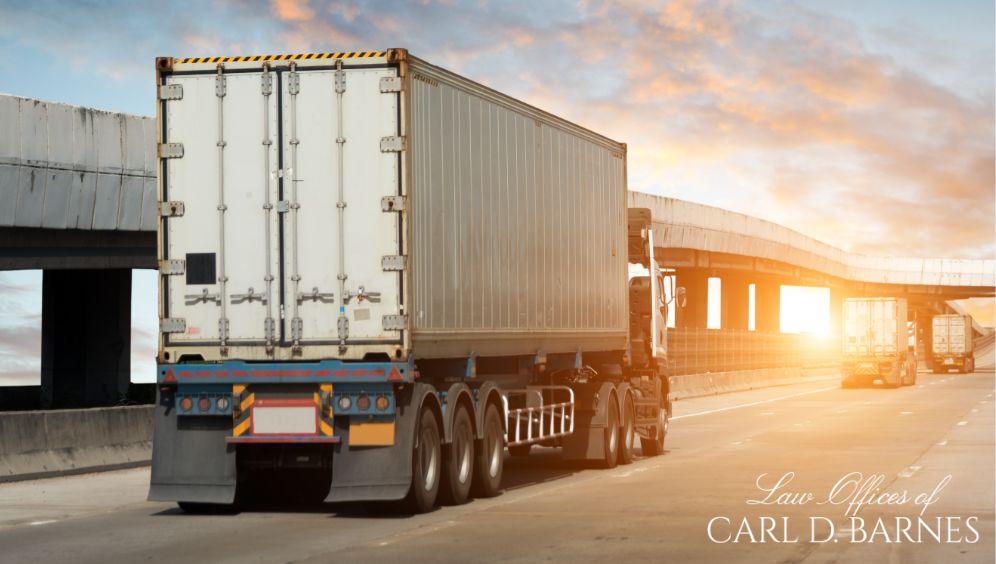 Chico Truck Accident Attorney
Large commercial trucks are common in California and responsible for empowering the state's supply chain. While most drivers in Chico will encounter large trucks regularly without issue, truck accidents do happen, often with catastrophic results. Due to the large size of these vehicles, they are easily capable of causing much worse damage than a standard passenger vehicle, and those injured in these accidents often face very challenging roads to recovery.
Helping Truck Accident Victims Recover in Chico, CA
If you or a family member recently sustained injuries in a truck accident, it's natural to have lots of pressing legal questions about how you can recover your damages and who is to blame for the incident. The attorneys at the Law Offices of Carl D. Barnes have decades of experience in personal injury law, and we have successfully helped many vehicle accident victims through their legal proceedings. Whatever your case entails, you can trust our firm to guide you to a positive conclusion and the recovery you legally deserve.
Proving Liability for Your Truck Accident in Chico
Before you can claim compensation for the losses you suffered in your recent truck accident, you must prove how the accident happened. The state upholds the fault rule for vehicle accidents, and this poses two important considerations in the aftermath of a truck accident. First, proving fault will be essential before you can recover your damages. Second, all drivers in the state must have auto insurance that has liability coverage of bodily injury and property damage, so filing an insurance claim against the at-fault driver will be your first option for recovery.
Your Chico truck accident attorney can help identify the party or parties responsible for the accident. While most truck accidents reported in Chico are the result of negligence, it is also possible for intentional misconduct behind the wheel to cause a serious accident. Additionally, it is possible for more than one party to bear fault for the truck accident you experienced due to the issue of vicarious liability that often comes into play in truck accident claims. Fault for your truck accident could fall solely to the driver, but it is also possible for their employer to share fault for the accident under the vicarious liability rule.
Distracted driving, speeding, and other truck driver errors are common examples of negligence that can cause serious truck accidents. It is also possible for intentional and illegal misconduct, such as driving under the influence (DUI) of alcohol or drugs, to have caused your truck accident. In these cases, defendants not only face liability for the civil damages they have caused but also criminal prosecution from the state. Your Chico truck accident attorney can advise you as to how any illegal misbehavior on the part of the defendant could impact your recovery efforts.
Recovering Through Auto Insurance After a Truck Accident
Once you have ascertained who is to blame for your truck accident, the first step in your recovery efforts is likely to be an insurance claim against the at-fault driver. Every driver is legally required to have auto insurance, and truck drivers and their employers often have more coverage than the average individual driver. However, this does not guarantee that insurance alone will fully cover your losses or that dealing with the insurance company will be easy.
Your Chico truck accident attorney can make filing your auto insurance claim after a truck accident much easier, and they will be readily available to resolve any disputes raised against your claim. Once your claim has been approved, the insurance carrier will deliver its settlement offer, and your attorney can verify that it is fair under the at-fault driver's policy terms. After obtaining your insurance claim settlement, all your outstanding damages that insurance can't cover can be sought through a personal injury claim.
Claiming Damages With a Personal Injury Suit in Chico
The goal of a personal injury claim is for the plaintiff to prove fault for their damages and then collect compensation from the defendant who caused their damages. Under California's personal injury statutes, it's possible for the plaintiff in a personal injury case to secure compensation for all economic losses they suffered, which are likely to include:
Property damage. Your insurance claim against the at-fault driver could provide some compensation for your vehicle repair costs, but any remainder not covered by insurance can be included as economic damages in your personal injury case.
Medical expenses. Truck accidents are easily capable of causing severe traumatic injuries. The defendant responsible for injuring you is liable for all medical treatment costs you incur, including the cost of future medical care if you suffered a severe injury.
Lost wages. If you are unable to work due to your injuries, the defendant is liable for the income you are unable to earn during this time. Additionally, they can be held responsible for your lost future earnings if your injuries left you permanently disabled and you cannot work at all in the future. Your Chico truck accident attorney could help calculate how much income you could have earned until retirement if the defendant hadn't injured you.
Aside from your economic losses, you also have the right to claim compensation for the pain and suffering you experienced. State law does not limit your pain and suffering compensation in a truck accident case, so once you add this to your total economic damages, you could be surprised to learn the true potential value of your claim. When you have an experienced attorney representing you, you are not only more likely to maximize your recovery but also more likely to do so in an efficient manner.
The Law Offices of Carl D. Barnes can work with you through every step of your recovery process, from proving fault against the responsible driver for your insurance claim to filing a personal injury case. Our goal is to help you recover as fully as possible as quickly as possible, and the sooner you reach out to our team, the sooner we can begin guiding you toward the recovery you deserve.
FAQs
Q: What Are the Most Common Injuries From Truck Accidents in Chico?
A: There is a risk of serious injury in any vehicle accident, but this risk is significantly greater in truck accidents involving large commercial vehicles. A few of the common injuries reported from these incidents include bone fractures, spinal cord injuries, and traumatic brain injuries. Soft tissue injuries such as whiplash are also common. This is a condition characterized by harm to the soft tissues in the head, neck, shoulders, and back, and some cases of whiplash will require intensive medical care or even surgical treatment.
Q: Do I Need to Hire a Chico Truck Accident Attorney for My Claim?
A: Technically, no, there is no requirement that you hire legal counsel for a truck accident case in Chico. However, navigating the complex issues you will face in your recovery efforts will be much easier with an attorney's help. They can help you file your auto insurance claim and build your personal injury suit when insurance alone can't cover your damages. Ultimately, you are more likely to maximize your recovery with an attorney's assistance.
Q: How Much Compensation Can I Claim for a Truck Accident in Chico?
A: If you are able to prove another party is directly responsible for causing your claimed damages, you can seek full repayment of the losses they inflicted. You could potentially secure compensation for your immediate medical expenses and lost income, damaged property, and the income you are no longer able to earn if you have been permanently injured. Once you factor in pain and suffering compensation, you might discover that your case is more valuable than you initially expected.
Q: How Long Will It Take to Finalize a Truck Accident Claim?
A: Most of the civil claims for damages filed each year do not go to trial. It benefits all parties involved to resolve a case through private settlement negotiations, but this is not always possible. As long as the parties involved in the case are willing to compromise on mutually acceptable terms, the case may only take a few weeks to settle. If the case must be resolved through litigation, it will take much longer, potentially several months to more than one year.
Q: How Much Does It Cost to Hire a Chico Truck Accident Attorney?
A: Legal counsel for your impending truck accident case is more accessible than you might assume when you choose the Law Offices of Carl D. Barnes to represent you. Our firm takes personal injury cases on a contingency fee basis, meaning we only take a percentage of our client's final case award as our fee instead of charging expensive hourly rates. However, we only take our contingency fee if and when we win your case, and you pay nothing if we are unable to secure a case award for you.
The Law Offices of Carl D. Barnes can provide comprehensive and meticulous legal counsel for the most challenging truck accident cases in Chico. Our firm has more than 40 years of professional experience helping clients throughout the state with all types of civil claims for damages, and our goal for every client is maximum recovery in the most efficient manner possible. If you are ready to learn what a seasoned Chico truck accident attorney can do for your recovery, contact us today to make your appointment for a free consultation with our team.